Minox BF 10×42 Binocular Equipment Review
The next most popular model in our Top 5 Minox Binoculars, based from our research, is the Minox BF 10×42 model.
We will talk about the various features and specification of this binocular and lay out to you what makes this pair of bino's tick with customers.
Product Description and Review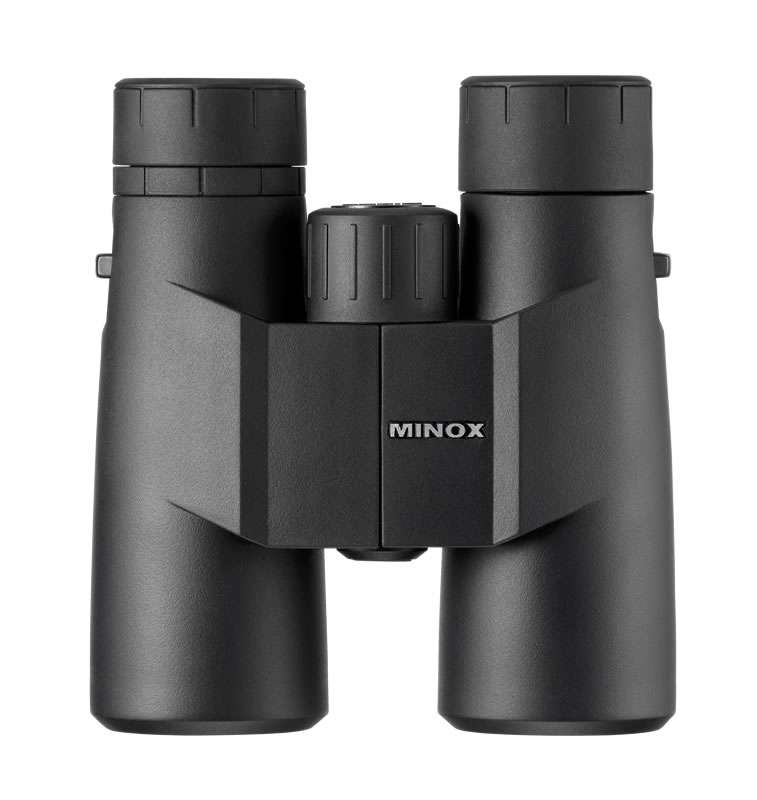 Binocular Design
The Minox BF series are powerful binoculars for outdoors. They are designed to suit most universal application exceptionally well.
It is suitable to use in all fields of hunting and game keeping. It also works great to use observing flora and fauna in the wild outdoor.
In the following sections, we shall discuss each feature in more detail so you can clearly evaluate the quality of the BF 10×42.
Allowable Operating Temperature
This binocular is designed to operate on a temperature range of 14 °F to 122 °F (or -10 °C up to 50 °C).
It is important to note this specification as you might end up using this binocular in an environment that is not suitable.
In saying that, the operating temperature range is quite big anyway so in most cases this model will be applicable to use.
Lens System
The lens system comes fully multi-coated using Minox proprietary "M* Multi-Layer Lens Coating" and Phase-Corrected Prisms.
This means that the optical system of this binocular will deliver very high light transmission with minimal stray light resulting in a very high-quality image resolution and contrast giving you neutral color rendition, clear views and beautiful images.
The FOV (Field of View) of the BF 10×42 is pretty generous at 315 feet at 1,000 yards (or 6.0°, or 105 meters at 1,000 meters). This will go beautifully with the crystal clear glass in this binocular.
The front lens diameter is 1.65 inches (42 mm) and with a magnification power of 10x, this results to an Exit Pupil Diameter of 0.17 inch (4.2 mm).
If you want to look at some interesting objects (like flowers, bugs or insects) less than two meters away, this binocular will be handy as the Close Distance Focus capability of this binocular is 3.94 feet (or 1.2 m).  You'll definitely enjoy looking at those fascinating things with the BF 10×42.
Magnification
The BF 10×42 comes with a fix power (magnification) of 10x which also means that you don't have the capability to vary the power. The 10x means your view is magnified ten (10) times compare to when you view an object using just your eyes.
For most of your general outdoor purposes, the 10x magnification is more than enough for you to enjoy those beautiful views and sceneries.
Body
The body of the BF 10×42 is a non-slip, sturdy aluminum body which makes it ergonomic yet rugged enough to withstand harsh environments.
The internal of this binocular is also nitrogen purged to eliminate fogging and the entire optical assembly is sealed for waterproof performance down to a depth of 10 feet (3 meters).
Physical Dimension
Physically, the size of BF 10×42 is 5.5 x 5.0 x 2.0 inches (140 x 127 x 51 mm) – that is, Height x Width x Depth – and weighs about 23.3 ounces (or 660 grams).
The dimension of this binocular makes it really compact and its weight is not that heavy as well so you won't get annoyed even if you're holding for more than a while and it fits nicely in the hand.
Other Features
This binocular also features twisting eye cups. The twist-up capability makes for an overall eye relief of 0.60 inch (15 mm). This level of eye relief is quite generous and if you wear glasses, you will be thankful that this binocular provides you of such a feature.
This binocular set also comes with a case and a strap.
Other Technical Specifications:
Diopter adjustment: ± 4 dpt
Geom. Twilight Number: 17.6
Advantages: Following are some of the things we note as advantages of the BF 10×42:
Great optics (clear and crisp images)
Waterproof to three (3 meters)
Disadvantages:
Fix magnification – this binocular also comes with a fix power of 10x, if you want a binocular that you can adjust the magnification, then one for you this is not the right.
User Reviews and Feedback
For your reference, we have lined up the following feedback from people who have actually purchased and used the product. It's a great way to actually gauge a product if it's really worth your money. Check them out below!
"This is the best deal ever. They are very nice binoculars and easily compare to other brand that costs five (5) times as much. They are actually so good that I bought a second pair."
"My husband is a hunter and he says these are fantastic binoculars!"
"This is a great product with a really high quality for the price that is unbelievably cheap!"
"This is an excellent pair of binoculars, definitely a great product." 
"This is a really very good product for the money. There is not much difference between this and the Bushnell Legend brand."
"These binoculars have a good feel and objects are clear and crisp! You can't go wrong for the money with this one!"
Users are very happy with the BF 10×42 and they all expressed that this binocular is amazing, with great & clear optics at a price that will not drain your wallet. Indeed, this is another very high-quality product from Minox.
The Minox BF 10×42 is designed with the outdoors in mind. It is a compact and lightweight binocular that is made to for you to enjoy most of your outdoor hobbies.
It has lots of great features and actual users are really happy about this binocular from Minox. So if you are looking for a pair of binoculars that is affordable, has clear optics and with high-quality craftsmanship, you have to check out the BF 10×42 as it fits all those description!
Also, based on great reviews and positive comments from product users, we highly recommend this binocular.
CLICK HERE TO SEE THE BF 10×42 PRODUCT PAGE.
If, for any reason, you do not like the BF 10×42, you can click here to go back to our listing of the Top 5 Minox binoculars and check out the other binoculars in our list.