The Zeiss Conquest HD 10×42 binocular (part/order number 524212) is one of the most popular model from the Conquest HD series. It is an all-around type of binocular that you can use for most of your outdoor hobbies.
It has a 5-star suitability rating for birdwatching and nature observation while also having a 4-star rating for other types of outdoor activities such as hunting, events, traveling, marine and astronomy.
The overall suitability factor for this binocular is pretty good that is why it is classified in the all-around category.
Conquest HD 10×42 Application Suitability Chart
| Application | Rating |
| --- | --- |
| Birdwatching / Nature Observation | |
| Hunting / Events / Traveling / Marine / Astronomy / General Outdoors | |
We will get to discuss more of its features and specifications in the sections to follow.
CLICK HERE to BUY the ZEISS CONQUEST HD 10×42 Binoculars at Amazon @ a GREAT PRICE and any available DISCOUNT!
Product Description and Review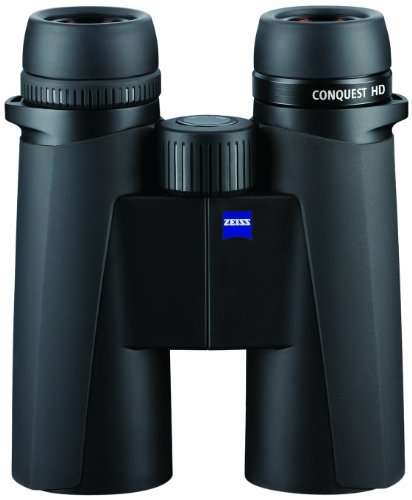 Binocular Design
The Conquest HD 10×42 is designed as a rugged piece of equipment that is capable to use even in low lighting conditions to suit a wide range of outdoor applications.
The optics incorporated in this binocular can be used even in long distances and gives you accurate details of your views.
The ergonomics side of the design and built of this model also ensures fatigue-free operation which enables you to use it for longer time.
So in summary, the three (3) basic design criteria for this binocular is great optics, easy to use or operate and durability.
Allowable Operating Temperature
The 10×42 HD is designed to be functional in a temperature range of -20°C to +63 °C.
This temperature range seems pretty wide so you could actually use this unit in most outdoor weather conditions. Don't use this beyond these temperatures!
Lens System
Integrated with a Schmidt-Pechan prism, the HD 10×42 is built with Zeiss' new proprietary HD lens system in place. This makes displaying of outstanding image quality with in-depth detail possible – even for long distances.
The lenses also undergone Zeiss' durable and abrasion-resistant LotuTec® coating regimen which gives this binocular clear visibility at all times and makes it easy to clean as well.
The Field of View (FOV) of the HD 10×42 is 115 meters at 1000 meters (Apparent Field of View would be 66 °) which is wide enough to make you see most of the views and images.
The front lens diameter of this binocular is 42 mm and with a magnification of 10x, the Exit Pupil Diameter would be 4.2 mm. The twilight factor of this binocular is pretty decent at 20.5 so it also performs well in situations when the lighting is not that great.
Focusing of the eyepieces are also easy and straightforward using the center adjusting knob and the diopter adjustment mechanism located on the right eyepiece of the binocular.
The diopter adjustment scale is +4 | -4 dpt and has an index point as a reference marker. The Close Distance Focus capability of this binocular is two (2) meters which would still make you enjoy those close-up views of nature and other wildlife or interesting bugs outdoors.
It is important to note as well that the Inter-pupillary Distance (IPD) suitability of this binocular is between 54 – 74 mm. This would generally suit most persons but if yours is smaller or larger, then you should buy a different model.
Body
The body of the Conquest HD range of binoculars is made of a high-grade material that is remarkably robust not just in paper but actually proven in the field by several typical hunting accidents.
You can read about the various durability tests in our previous article here. The rubber armoring that house the binocular gives you that nice and comfy feeling when you hold it with your hands.
The water resistance feature of this binocular is up to 400 mbar (4 meters or 13.3 feet water depth) which is better than most binoculars that were designed only for up to three (3) meters.
The internals of this unit is also protected against fogging and corrosion by nitrogen purging.
Physical Dimension
The physical size of the 10×42 is 150 mm x 120 mm (Height x Width) which is just about 6 x 4.7 inches. The weight is also really light at only 795 grams (or 1.75 pounds) making it pretty compact and lightweight for its size range.
Other Features
This binocular is provided with twist-out eyecups that can be locked in four positions (i.e. bottom, top and in two intermediate positions).
Eyecups adjustment for those wearing glasses should be on the lowest position. This gives a total eye relief of 18 mm which would comfortably suit most eyeglass wearers.
The binocular package comes with eyepiece cap, protective lens cap, strap for fastening protective lens cap, carrying strap, carrying case including carrying strap, lens cleaning cloth, instructions manual, warranty card and a quality certificate.
Where Is The Zeiss Conquest HD 10×42 Made?
As with all the models in the Conquest HD series, the 10×42 version is designed and manufactured in Germany.
Can The Conquest HD 10×42 Be Mounted On A Tripod?
In case you're wondering, this model does not have image stabilization so if you'll be using it for a really long time and require a steady view, you would be needing a tripod.
When mounting this binocular to a tripod, you have to have the Binofix Tripod Adapter as this unit cannot be mounted directly. For more details, have a look at it on this page.
Click here to see the ZEISS CONQUEST HD 10×42 BINOCULAR product page.
If you do not like the HD 10×42, you can check out the other Conquest HD binocular models in this article.
Save
Save
Save
Save