Zeiss Conquest HD 10×42 Binocular Review
The Zeiss Conquest HD 10×42 binocular (part/order number 524212) is one of the most popular model from the Conquest HD series.
It is an all-around type of binocular that you can use for most of your outdoor hobbies. It has a 5-star suitability rating for birdwatching and nature observation while also having a 4-star rating for other types of outdoor activities such as hunting, events, traveling, marine and astronomy.
The overall suitability factor for this binocular is pretty good that is why it is classified in the all-around category.
Conquest HD 10×42 Application Suitability Chart
| Application | Rating |
| --- | --- |
| Birdwatching / Nature Observation | |
| Hunting / Events / Traveling / Marine / Astronomy / General Outdoors | |
We will get to discuss more of its features and specifications in the sections to follow.
Product Description and Review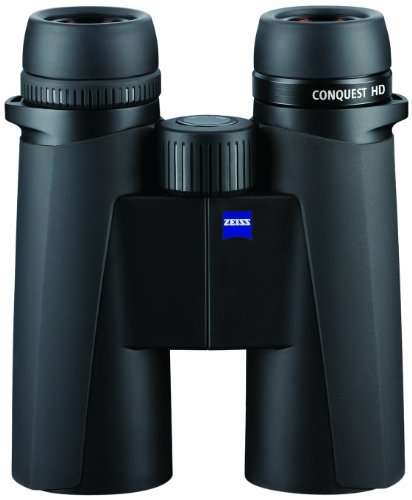 Binocular Design
The Conquest HD 10×42 is designed as a rugged piece of equipment that is capable to use even in low lighting conditions to suit a wide range of outdoor applications.
The optics incorporated in this binocular can be used even in long distances and gives you accurate details of your views.
The ergonomics side of the design and built of this model also ensures fatigue-free operation which enables you to use it for longer time.
So in summary, the three (3) basic design criteria for this binocular is great optics, easy to use or operate and durability.
Allowable Operating Temperature
The 10×42 HD is designed to be functional in a temperature range of -20°C to 63 °C.
This temperature range seems pretty wide so you could actually use this unit in most outdoor weather conditions. Don't use this beyond these temperatures! Save
Save
Lens System
Integrated with a Schmidt-Pechan prism, the HD 10×42 is built with Zeiss' new proprietary HD lens system in place. This makes displaying of outstanding image quality with in-depth detail possible – even for long distances.
The lenses also undergone Zeiss' durable and abrasion-resistant LotuTec® coating regimen which gives this binocular clear visibility at all times and makes it easy to clean as well.
The Field of View (FOV) of the HD 10×42 is 115 meters at 1000 meters (Apparent Field of View would be 66 °) which is wide enough to make you see most of the views and images.
The front lens diameter of this binocular is 42 mm and with a magnification of 10x, the Exit Pupil Diameter would be 4.2 mm. The twilight factor of this binocular is pretty decent at 20.5 so it also performs well in situations when the lighting is not that great.
Focusing of the eyepieces are also easy and straightforward using the center adjusting knob and the diopter adjustment mechanism located on the right eyepiece of the binocular. The diopter adjustment scale is 4 | -4 dpt and has an index point as a reference marker.
The Close Distance Focus capability of this binocular is two (2) meters which would still make you enjoy those close-up views of nature and other wildlife or interesting bugs outdoors.
It is important to note as well that the Inter-pupillary Distance (IPD) suitability of this binocular is between 54 – 74 mm. This would generally suit most persons but if yours is smaller or larger, then you should buy a different model.
Body
The body of the Conquest HD range of binoculars is made of a high-grade material that is remarkably robust not just in paper but actually proven in the field by several typical hunting accidents.
You can read about the various durability tests in our previous article here. The rubber armoring that house the binocular gives you that nice and comfy feeling when you hold it with your hands.
The water resistance feature of this binocular is up to 400 mbar (4 meters or 13.3 feet water depth) which is better than most binoculars that were designed only for up to three (3) meters.
The internals of this unit is also protected against fogging and corrosion by nitrogen purging.
Physical Dimension
The physical size of the 10×42 is 150 mm x 120 mm (Height x Width) which is just about 6 x 4.7 inches. The weight is also really light at only 795 grams (or 1.75 pounds) making it pretty compact and lightweight for its size range.
Other Features
This binocular is provided with twist-out eyecups that can be locked in four positions (i.e. bottom, top and in two intermediate positions). Eyecups adjustment for those wearing glasses should be on the lowest position. This gives a total eye relief of 18 mm which would comfortably suit most eyeglass wearers.
The binocular package comes with eyepiece cap, protective lens cap, strap for fastening protective lens cap, carrying strap, carrying case including carrying strap, lens cleaning cloth, instructions manual, warranty card and a quality certificate.
Where Is The Zeiss Conquest HD 10×42 Made?
As with all the models in the Conquest HD series, the 10×42 version is designed and manufactured in Germany.
Can The Conquest HD 10×42 Be Mounted On A Tripod?
In case you're wondering, this model does not have image stabilization so if you'll be using it for a really long time and require a steady view, you would need a tripod.
When mounting this binocular to a tripod, you have to have the Binofix Tripod Adapter as this unit cannot be mounted directly. For more details, have a look at it on this page.
How Does The Zeiss Conquest HD 10×42 Compare With Vortex Razor, The Terra ED Or The Swarovski SLC WB?
vs. Terra ED
The overall build quality of the Conquest HD series compare to the Terra's is more advanced. The diopter setting, focus, twist-out eyecups are more solid as well.
More importantly, the Conquest glass is better which is where the great difference lies. These better features will result in less eye strain and give you a more enjoyable experience overall.
vs. Swarovski 10×42 SLC WB
Swarovski and Zeiss would of course have their differences, as both have their strong points and subtleties in their product ranges.
However, glass wise, the clarity of the Zeiss Conquest 10×42 is comparable to the 10×42 SLC WB from Swarovski. You won't even see the difference. The clarity of the lenses are equivalent.
There is of course one big difference between the two – the price. The Swarovski model is more or less, a thousand dollars higher in price than the Zeiss'.
If you're a Swarovski fan and you can afford it, by all means go for it but if you're into quality and performance at a better price, then the Zeiss is a very good option.
vs. Vortex Razor 10×42
Based on people who have tried both the Razor and the Conquest models, it was concluded that the optical quality of the Zeiss model is more superior compare to the Vortex.
Also, the focus knob of the Conquest HD 10×42 is more sensitive than the Vortex Razor 10×42 which makes focusing and adjusting a lot easier, even with one hand.
Lastly, if you're comparing the Conquest HD series to other brands, it is reassuring to know that there was a test conducted by Cornell Ornithology Lab and they have concluded that the Zeiss Conquest is the best in their price range.
They have indicated that these are very good binoculars. The clarity and depth of field are outstanding. Suffice to say that you're in for a good treat with this binocular from Zeiss.
What Is The Warranty For This Model?
This binocular is covered by Zeiss' No Fault 5 Year Warranty policy. After that, it transitions into the limited lifetime warranty which is really a pretty good deal.
Great product with an awesome warranty, you don't really have much to lose in here!
User Reviews and Feedback
We've researched and read through all user comments and reviews and found really interesting feedback from users (both pros and cons) and we have laid them all out here for you so you'll have a solid reference for this product.
Positive Comments:
"This has excellent range, really clear and sharp! These are great binos for the money!"
"The quality is better than I expected."
"This is classic Zeiss – great for birding at a distance and close-up. The clarity of the lenses is perfect. Definitely worth the investment!"
"The views and images from this binocular are beautifully crisp and clear! This model performs well in low lighting and provides great detail – much better than my eyes could see."
"Really easy to focus and fits well in the hands and the eye relief is great!"
"Really worth the money – you can't justify the cost of buying more expensive models!"
"If you're serious about birding, this binocular is truly worth it! The light gathering capability of this binocular is absolutely fantastic and it gives crystal clear images."
"This is truly a difference with those $200 – $300 binocular range. Stunningly clear views and images!"
"This product is great – the best pair of binoculars I've used scanning a mountain!"
"Unbelievably clear binoculars and very easy to use."
"I love the grip of the rubber armor on cold mornings. I was able to find and point out game easily on the mountainsides compare to my old pair."
"These are fabulous binoculars with super clear optics. They are light weight and I absolutely love them."
"Really nice optics. The clarity and brightness are great. You could feel that they are very well-made."
"Love the sensitive focus knob – it makes one-handed use and focusing easier!"
"Optics are great – I use them for backpacking, whale watching and birding."
"After 2 years of hard use the diopter on my binocular has drifted. It was repaired in Germany and took a while but I was happy when I got it back as it all looks good!"
"There are impressive German-made binoculars!"
"They were bright even in low light and the FOV is good."
"My daughter took most of her safari photos through one of the lenses and it worked surprisingly well!"
"This has amazing glass, even in low light conditions…"
"…This product is cost effective!"
"This is superb for general use and scouting potential real estate purchases… they are beautifully made…"
"You won't find a better option under this price range – I've considered all the top line (i.e. Swarovski &Leica) – I couldn't justify the extra cost when I can't notice the difference in them!"
"If you look through the Zeiss, you see better contrast and less aberrations. It also has an overall brighter and sharper image."
"For a mid-range glass, I would say these are a really great step-up with regards to quality…"
"I haven't found any issues with this binocular – everything works as promised…"
"I love the rubbery, non-slippery feeling of this Conquest 10×42…"
"My buddy who uses Leica now envies my Zeiss for its better glass…"
"These are light weight with awesome clarity… it's the perfect size for a hunting weekend!"
"I'm an avid outdoorsman & birdwatcher and started using binoculars 30 years ago and I could say that these Zeiss 10×42's are amazing! It has an absolutely phenomenal clarity and the low light visibility looks better than what you can see with your own eyes. Also, the close focus distance is closer than what is stated in the specs…"
"These are powerful, lightweight and compact – a quality, precision, German manufactured product!"
"I've taken these binoculars on a guided elk hunt and found them really easy to use. They are relatively light weight and give crisp and clear images even from more than a mile away…"

Negative Feedback:
Reading through various feedbacks from users, the following negative comments were noted:
Lens covers are cumbersome and won't stay on especially while using the binoculars with a chest harness
The strap that came with the binoculars is not that comfy for some users
There are few users claiming that there are physical damages (out of the box) when their binoculars arrived such as scopes are out of alignment, cracked rotating eyecup and scratched lens (which are all covered by warranty anyway, so shouldn't be a huge deal)
While most of the users find the focus knob easy to use, some people find it as so sensitive to operate
Eye cups could not be raised high enough
Some users say that after-sales support is not that great (although there are many more other users saying otherwise)
We've gathered some salient points from users' comments. These are not negative feedbacks but pretty handy to know firsthand before deciding to buy this model.
Some users prefer the Cabela's Pro Binocular Harness Item: IK-711764 than the one supplied with the binocular as it is more comfortable to use.
Some users would like a longer eye-relief capability. Take note that the eye-relief of this binocular is 18mm (which would fit most people who wear eyeglasses) so if you need more than that, you have to go for another model or brand.
Other users find the fairly limited selection of accessories from Zeiss (i.e. eye cup covers) as opposed to other brands a bit of an issue. (Although this was easily fixed with a solid covered harness purchased from other suppliers).
Some people found out that installing a slide-on flip up cover for the outer lens protects the binocular from scratches better than the ones that came with the package
Well, we've provided you lots of information here regarding the Zeiss Conquest HD 10×42 binocular. We've talked about the different features and specifications that this model has to offer and we've also laid out the positive and negative aspects that actual users discovered with this particular product.
With great glass, amazing quality, awesome features and outstanding warranty, most of the people who had purchased the 10×42 Conquest HD are very happy about this binocular from Zeiss.
One more thing that's working for this model is its durability. The toughness and the sturdiness of the Conquest HD binoculars is unquestionable as proven by the rigorous and extreme tests we have mentioned in this article. So expect that his binocular is really rugged and can be used for most of your outdoor needs.
With regards to the negative feedback, some users found issues with the lens cover falling off but this has been easily addressed by using a replacement from a different supplier.
Also, there were a number of people who have had disappointing experiences, not in the binoculars themselves but on how they have received their binoculars with damage to it. Surely, this has not been the case after it was manufactured so obviously an issue here during transit or courier of the product.
At any rate, this is a very promising product with lots of great features and high-quality optics. The high product rating from users attest to the real value of the Conquest HD 10×42 which is why we highly recommend you check out this binocular model.
Click here to GO TO the ZEISS CONQUEST HD 10×42 BINOCULAR product page.
If you do not like the HD 10×42, you can check out the other Conquest HD binocular models in this article.