Steiner Predator Binoculars – A Great Hunting Companion!
Steiner Predator binoculars are roof-prism binoculars designed by Steiner with hunters in mind. You see, hunters demand optics that has all-around capabilities, easy to use and can be carried along comfortably.
Well, the Predator series is there to provide hunters a great companion in the field. With its color adjusted transmission (CAT) coatings providing excellent views even in low-light conditions and relatively low weight, this binocular model is really a great choice for hunters.
The latest generation advances in low light performance is incorporated in this model for optimized light transmission giving you brighter images and up to four (4) percent improved light transmission.
The CAT coatings also amplifies the contrast in the peak human vision sensitivity range, so whether it be for hunting turkey, western big game, eastern whitetail, varmint or bow hunting, the Steiner Predator is there to make your life easier. Spotting in any environment is a breeze!
The Predator is available in different configurations, 8×22 (Item Number 2441), 10×26 (Item Number 2442), 8×42 (Item Number 2443) and 10×42 (Item Number 2444).
Some of the general features of the Predator binocular series are:
Fast Close Focus System – the central focusing wheel only requires minimal rotation to get that required sharpness from as close to six (6) feet to infinity
High Contrast Color Adjusted Transmission Coatings – makes easier to spot targets in leafy environments.
NBR Long Life Rubber Armor – lightweight yet tough rubber coating to withstand harsh conditions
Fogproof clarity in any condition.
Rain Protection Cap – protects your optics from the elements (dust, moisture, etc.)
Heritage Warranty – Steiner's warranty system that is excellent for the lifetime of the product.
We shall talk about the other features that are specific to a certain model in the next relevant sections.
The Top 4 Most Popular Steiner Predator Binoculars
In this section, we shall check out the four Predator models that are most popular in the market. The ranking is based on the average user rating from Amazon and the customer rating from the Steiner website.
The Top 4 are as follows:
Steiner 2442 Predator Binocular, 10x26mm
Steiner 2441 Predator Binocular, 8x22mm
Steiner 10x42mm 2444 Predator Binocular
Steiner 8x42mm 2443 Predator Binocular
Specific model description and product details are below.
1. Steiner 2442 Predator 10×26 Product Details
With an average rating of 4.77 stars (4.2 x 4 from Amazon and 4.9 x 18 from Steiner), the Predator 10×26 model has taken the number one spot in our ranking.
With its 10x power, this binocular is great for long-range detail making it perfect for wide-open country and hilly regions.
It has a close focus of ten (10) feet so you can zero in on those closer targets. The field of view of this binocular is pretty good at 302 feet which will give you more than a decent view of your target and the surrounding area.
With its compact dimension of 4.9 x 4.1 x 1.8 (HxWxL) and extremely light weight of 0.65 pound, it is very easy and light to carry along in the field.
Other product features:
Exit pupil diameter of 2.6mm
A neck strap is provided with the strap attachment fixed
No cover for the objective lens
 
User Comments About The 10×26
Small but effective binocular
A lot brighter than expected
The frame is small and light which is really good for hunting and backpacking
The carry case is impressive
This is an easy choice for the money with its size, ease of use and versatility
Great for observing nature and wild life without the weight of other bigger binoculars
A nice, clear and compact binocular. Really easy and light to carry
Rugged for any outdoor activity
The clarity of this binocular is outstanding; well-made product
The rain caps or protective covers do not fit snugly on the eye cups
2. Steiner 2441 Predator 8×22 Product Details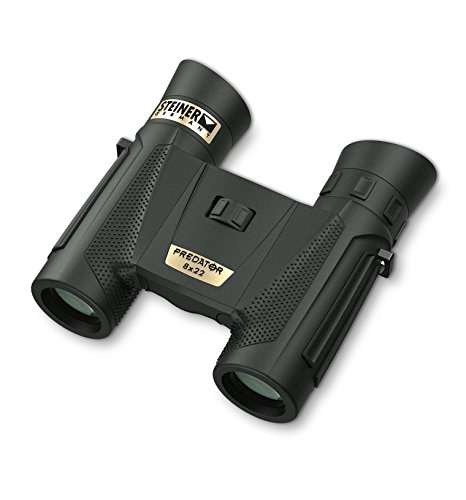 Sitting in number two (2) is the Predator 8×22 model with an average rating of 4.71 (5 stars x 2 from Amazon and 4.6 x 5 from the manufacturer's website)
This model has the same close focus capability with the 10×26, 10 feet. The field of view is wider though at 332 feet so you'll get more of the view using this model.
This is also the most compact of all the top four models with a 3.9 x 4.1 x 1.8 dimension and a tiny weight of 0.64 pound. Surely the 8×22 won't be a bothersome to carry with you out there!
Other features of the 8×22 are:
Exit pupil diameter of 2.7mm
Neck strap is fitted with a fixed strap attachment

User Comments About The 8×22
Wasn't expecting this kind of quality from a compact model but this binocular is really splendid
This is really a great buy. So small to easily fit in the pocket. So light, so small and yet so very clear
Awesome value for those with tight budget – yet this pair of binoculars is great for hunting and stalking
Really light weight and compact size
Focusing the 8×22 is outstandingly easy!
Great binoculars – very pleased with the product!
3. Steiner 10x42mm 2444 Predator Product Details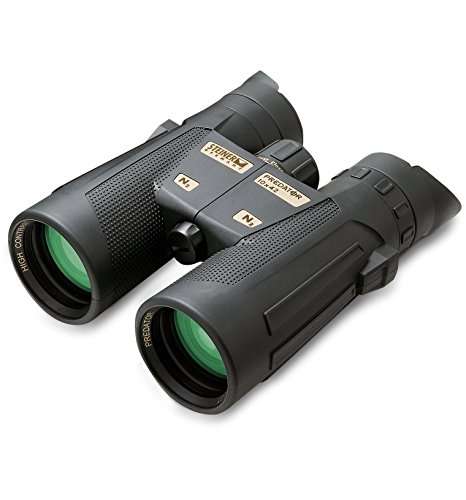 Having an average rating of 4.66 stars out of 5 (4.5 x 12 – Amazon; 4.7 x 42 – Steiner), in third (3rd) spot is the Predator 10×42 model.
The minimum close focus capability of this model is farther than the first two above at 13 feet. It has a field of view of 316 feet which is in between the range of the 10×26's and 8×22's.
With a bigger objective lens, it would be expected that the dimension and weight of this model is relatively bigger than the first top two models. It comes in at 6.9 x 4.9 x 2.6 (HxWxL) and a weight of about 1.76 lbs.
Compare to the 10×26 and 8×22, the extra strength that you'll be getting from the 10×42 allows you to look out a little further with better clarity which makes this binocular great for hunting and bird watching as well.
Other product features of the 10×42 are as follows:
Exit pupil diameter of 4.2mm
A neoprene neck strap is provided with a ClicLoc type attachment which makes it easier to instantly attach and release the neck strap.
The objective lens is provided a cover

User Comments About The 10×42
I like the eye hoods – they hold out light
Clear and allows extra light in during light evenings
Needs to be hold a little more solid than the smaller model
The extra magnification power is really great for bird watching which the 8x magnification can't provide
Exceptional quality for a great price
Great for sightseeing, hunting and boating
Really surprised with the quality – they are actually better than what I hoped for
The quality of this binocular is really good – images are great indeed!
Allowed me to focus quickly on the target which is a priceless information
Optics are very crystal clear and can stand in comparison with other expensive brands
A big plus for me is the compactness and the light weight of this binocular
The ergonomic style of the eye cups act as a steady post against the face
The eyecups design lets you concentrate on what you are focusing on
Always gets complimented by friends after using my binocular
The clarity is phenomenal
Excellent in bright light and low light as well
Edge to edge clarity is superb
Feels great in your hands
Some people find it too big
4. Steiner 8x42mm 2443 Predator Binocular Product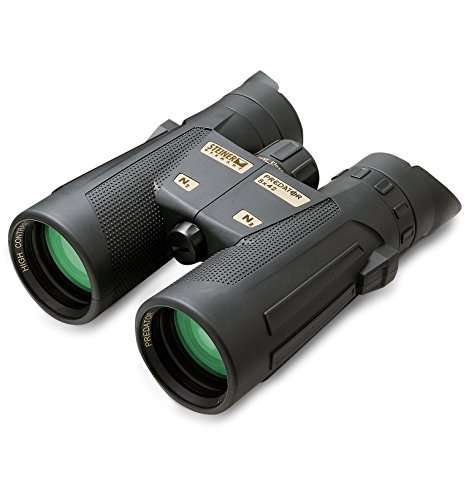 Rounding up our Top 4 is the Predator 8×42 model. It has an average rating of 4.66 out of 5 stars (Amazon = 4.5 x 3) and Steiner = 4.7 x 14). It has the same average with the 10×42 but we've placed the 10×42 in a higher position because it has more number of user reviews.
The close focus capability of the 8×42 is six (6) feet and it has a really wide field of view of 381 feet! With a very clear optics and a wide field of view, man, you could see almost everything with this binocular!
Dimension-wise, this model looks almost the same as the 10×42's because they have nearly the same measurements. It has a H x W x L of 6.9 x 4.9 x 2.5. It is also lighter than the 10×42 with a weight of 1.63 pounds.
Following are the other product features of the 8×42:
Exit pupil diameter of 5.3mm
Also has Neoprene Neck Strap With ClicLoc System
Objective lens covers are also provided in this model

User Comments About The 8×42
A stellar product compared to other mid-priced binoculars
This is a well-made binocular
This is easily one of the best bargains out there for high-quality binoculars
Comparable to other well-known birding binoculars
A supreme pair of binoculars at a low price
Can't tell the difference, physically speaking, with the 10×42
Steiner Predator Product Comparison Table
We have provided a table below so you can easily compare the Top 4 Steiner Predator binoculars. Comparing the details side by side is always a great way to see the differences between each model.
| Model | 10x26 | 8x22 | 10x42 | 8x42 |
| --- | --- | --- | --- | --- |
| Product Number | 2442 | 2441 | 2444l | 2443 |
| Magnification | 10 | 8 | 10 | 8 |
| Objective Lens Diameter, mm | 26 | 22 | 42 | 42 |
| Field of View, feet | 302 | 332 | 316 | 381 |
| Close Focus, feet | 10 | 10 | 13 | 6 |
| Weight, lbs | 0.65 | 0.64 | 1.76 | 1.63 |
| Dimension (HxWxL) | 4.9 x 4.1 x 1.8 | 3.9 x 4.1 x 1.8 | 6.9 x 4.9 x 2.6 | 6.9 x 4.9 x 2.5 |
| Exit Pupil Diameter, mm | 2.6 | 2.7 | 4.2 | 5.3 |
| Luminosity | 6.7 | 7.6 | 17.6 | 27.6 |
| Twilight Factor | 16.1 | 13.3 | 20.5 | 18.4 |
| Neck Strap Arrangement | Fixed | Fixed | ClicLoc | ClicLoc |
| Objective Cover | No | No | Yes | Yes |
| Average User Rating | 4.77/5 | 4.71/5 | 4.66/5 | 4.66/5 |
Where Are Steiner Predator Binoculars Made?
As for all other Steiner binoculars, the Predator series are all made in Germany. They are not made in China or any other place for that matter. So you will be rest assured that the product that you're getting is made from a high-quality and innovative German technology.
Hunting is one of the most popular hobbies that binoculars are being used for.  With the special conditions and capabilities that hunting activities require, Steiner have developed the Predator series to accommodate these requirements. A couple of these requirements are high quality image and a lightweight yet rugged design.
These two very distinct features are incorporated with the Predator binocular series. With the color adjusted transmission (CAT) coatings, high quality and crystal clear images are achieved even in low light situations.
The housing design is made of NBR Long Life rubber armoring which makes for a rugged design yet maintaining a really light weight product.
The Predator series comes in various power by size configurations and we have provided you the 4 most popular of them all based on average user ratings:
10×26 with an average rating of 4.77 out of 5 stars
8×22 (4.71 out of 5)
10×42 (4.66 out of 5 stars)
8×42 (4.66 out of 5)
Looking at the user ratings, you could see that the Steiner Predator series binocular is a highly rated product. Users have really high regard for its performance in the field and below is a summary of their comments:
This is a really nice product with excellent and crystal clear views.
The glasses used in this product are outstanding giving you crisp images.
The compactness and light weight feature of these binoculars are amazing.
Excellent product warranty (some users have great experience with their product being replaced at no cost!)
Sensitive focus wheel makes adjusting the focus very easy
A quality product is not always expensive – Steiner Predators are a testament to this statement
The price of this product is considered a "bargain" compare to its quality
Based on the following criteria, the Steiner Predators come highly recommended:
Product average rating from users is high (between 4.6 & 4.77) which means that this binocular series is evaluated highly by the people who bought them.
Favorable user comments from their very own experience in using these binoculars – this means that product features and performance in the field is really good.
High quality product from a very trusted brand – well, these binoculars are made by Steiner which is one of the pioneers in optics technology so you know that manufacturing quality standard is really over the top!
The price is relatively cheaper compare to other brands – with a very competitive price and a superior quality, this is indeed one of the best bargains out there!
A great product warranty system giving you peace of mind.
If you're into hunting, remember that Steiner Predator binoculars are there to be your great hunting companion!