Nikon Monarch 7 8×42 Binocular Review
The Nikon Monarch series has grown in popularity with every release of a different model.  In this article we will be discussing one of Monarch's popular versions – the Nikon Monarch 7 8×42.
The Nikon 7548 Monarch 7 8×42 ED ATB binocular or simply Nikon Monarch 7 8×42 is one of Nikon's all-terrain binocular series model.
It is one of those in the mid-range price and yet delivers impressive image quality.
For those who love to see what nature has to offer, this binocular will certainly be a great companion.
The Monarch 7 is ergonomically designed with weather-tight sealed housing.  It is not heavy compared to other binoculars with the same configuration. It has an excellent field of view with no noticeable chromatic distortion and a really delight to use.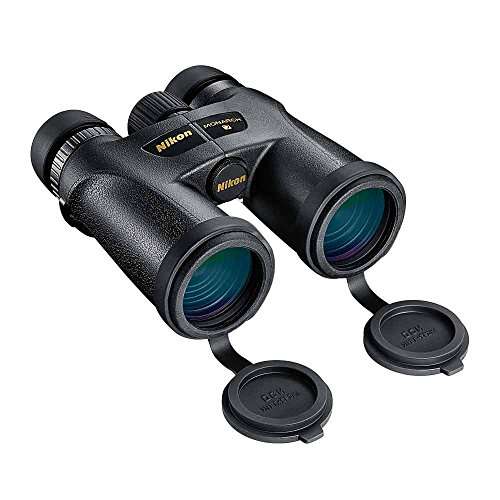 Monarch has impressed hobbyists and naturalists alike because of its detailed clarity effected by the extra-low dispersion glass elements installed in it.
Quality and affordability really set in for this binocular that is why this product is actually rated exceptionally high by users – 4.8 out of 5 stars!
What Are The Specifications of The Nikon Monarch 7 8×42 Binocular?
To make you acquainted with the Monarch 7, check the specifications below:
It has a field of view (FOV) that is exceptionally wide (420 feet) which makes target-finding easier. A wide field of view is desirable for viewing anything that has quick movements such as sports games, birds or wildlife.
All lenses and prism are coated with dielectric high-reflective multilayer prism coatings which provide high-contrast images and accurate color reproduction.
Has a durable rubber armored coating which makes it comfortable to hold yet rugged enough to stand up to any conditions.
With extra-low dispersion (ED) glass which delivers stunning sharpness and contrast. Also enhances brightness and color fidelity.
Roof prisms design with phase-correction thereby preserving clarity and detail
Has an Exit Pupil Diameter of 5.25 millimeters
This product only weighs 1.3 pounds – pretty light!
Product dimension is 1.65 x 5.1 x 5.7 inches, so not that big and bulky
Has a maximum magnification of 8x – powerful enough to see distant objects!
Size of objective lens is 42 millimeters
Is The Nikon monarch 7 8×42 Binocular Waterproof?
YES, indeed it is! The housing of this binocular is filled with nitrogen which makes it fog-proof and waterproof.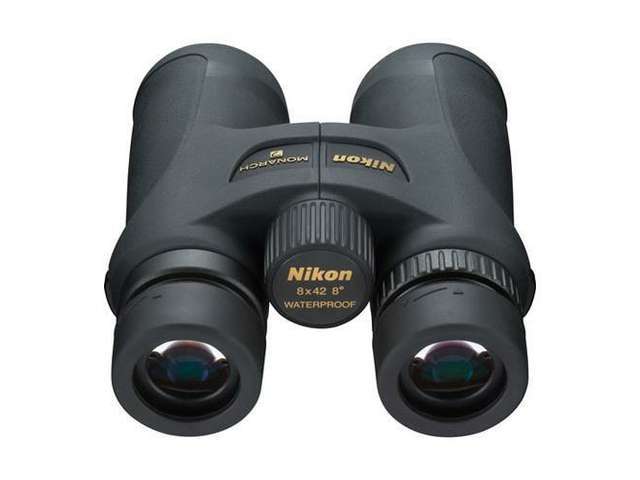 So if you get caught out in the snow or rain, no need to worry at all, you can continue to use them.  Just wipe it with a dry-cloth once you get the chance and away you go again!
Nikon Monarch 7 8×42 vs 10×42 – Which One Is Better?
The Nikon Monarch 7 also comes in a 10×42 configuration. The 10×42 would result to a 4.2mm exit pupil diameter (EPD).
Remember this, for a given binocular size, the higher the magnification the smaller would be the exit pupil diameter. And with a smaller exit pupil diameter, the field of view (FOV) would be smaller as well.
Now, if you're asking which one is better, it will depend on what you're actually after. Bigger EPD results to bigger FOV and a comparatively lesser detail. Lower EPD gives you a relatively smaller FOV but with improved visibility of the objects you want to see.
What Is The Difference Between Nikon Monarch 7 ATB 8×42 and 8×30?
The difference between these two is the objective lens diameter. The other one has a 42mm while the other has a 30mm objective lens.
Of course, the EPD and FOV factors we talked about above would come into place here but as far as clarity and usability are concerned, there is not much appreciable difference between these two binoculars. Probably one major difference would be the price as the Monarch 7 8×30 is lower by about $190.
What Do Users Say About The Nikon Monarch 7 8×42 Binocular?
It is always great to hear from experiences of various users and how they feel about a certain product as you can learn some things before you actually get hold of the item.
Below are some of the comments and salient points gathered from actual Monarch 7 users:
Compare to a Pentax DCF 8×42, the Monarch 7 has better color saturation and clarity.
Compare to a Monarch 3, the Monarch 7 has an edge over clarity and low light definition. The difference is pretty noticeable at night time.
When viewing distant object, the 7 has a slight edge over a Monarch 3 series. The 7 series is slightly larger and a bit heavier though.
The improved glass technology in Monarch produces a stunningly clear view.
Compare to a Monarch 5, the view from the 7 is much brighter and detail is so much better.
The same binocular used by a tour guide for the rainforest in Ecuador and Galapagos (a testament to its popularity!)
A comparative functional test with a Monarch 7 10×42 revealed better results when reading fine text on an object a couple of blocks away. The repeatability of the test is pretty accurate when tried hours later.
The Monarch 7 is such a pair of indestructible and high-quality binoculars – arguably the best option available.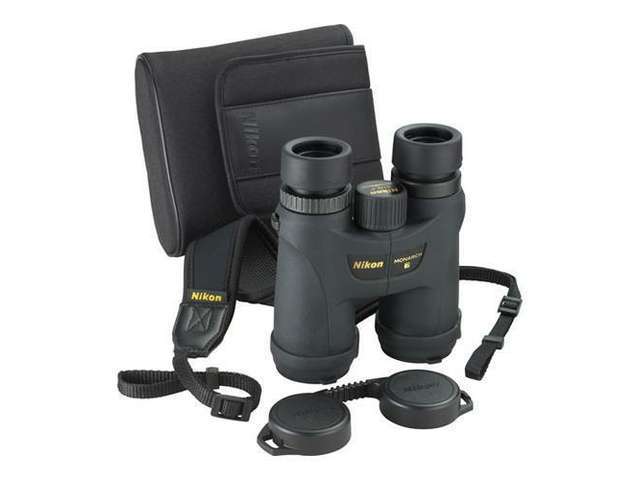 It is easy to adjust and use. Produces a better view in low-light conditions than old Monarch series.
User-friendly even for a novice birdwatcher!
Brighter images and wider field of view compared to old binoculars with 8×42 configuration.
Really enjoyable to use for field research and bird watching.
It feels just like looking through a window when using this binocular!
Easy to focus for awesome clarity.
Ideal for birding and study of city art and architecture.
Compare to an old 10×50's, there is no visible difference in power. The lost in magnification is overshadowed by the brightness and clarity.
This is a high-quality medium priced binocular that is excellent for bird watching.
It is easy to use and adjust, can focus up close and pretty easy to change settings for seeing birds at further distance.
Unlikely to be easily damaged because of its strong, rubbery outer parts.
This binocular is bright, comfortable to hold and easy to focus.
The field of view is much wider compare to other binoculars and the quality of the view is pretty sharp across most of the FOV, probably up to 80%. The outer 20% is a bit soft but still bright.
The quality of this binocular is unbelievable compare to its price!
The strap that comes with this binocular is fairly comfortable but a harness is a great accessory if you are going to walk around for long hours.
The field of view of the Monarch 7 is definitely better than the Monarch 5!
The lens cover fit nice and tight, however, they only fit by gravity so might fall off some time.
This binocular is comparable to a $4000 unit with its terrific light gathering and clarity!
This is way better than compact binoculars!
This binocular is sharper and clearer than the top of the line Swarovski and Zeiss units that I have used before.
They feel great in your hands and FOV is fantastic. Superb in low light conditions!
The unit comes with an excellent guarantee.
Performance wise, this binocular is like something that is worth $1000 – really enjoyable to use! 
From the above comments, it could be summarized that users are one in saying that the Monarch 7 8×42 is an excellent binocular that gives you sharp and clear views with a field of view that is wide enough to see many objects.
Is The Monarch 7 8×42 Available To Buy As A Kit?
Isn't it a great thing to buy a product with some accessories already included? Yes, of course! I, for one, am always on the lookout for these offers.
If you're thinking like that, then you're in for a treat because the Monarch 7 can be purchased with a combination of some useful accessories.
Following are some great offers that really make sense if you compare the price of these combos to buying just the binocular on its own. The binocular alone costs, more or less, about $450.
Kit #1 – Number of items is 4:
This kit has 4 items altogether and is worth about $480. This package is all about keeping your binoculars tidy with the cloth and the pen for cleaning the lens.
It includes the following:
Nikon Monarch 7 8×42 Binoculars with Case
FogKlear Dry Anti-Fog Cloth
Nikon Cleaning Lens Pen
PD Spudz Microfiber Cloth
Note that all items are BRAND NEW and with all manufacturer-supplied accessories. Full USA Warranties is also included in the package!
Kit #2 – Number of items is 4:
This kit has four items in it as well and worth about the same as the above package.  This combo does not have the cleaning pen but it includes a harness.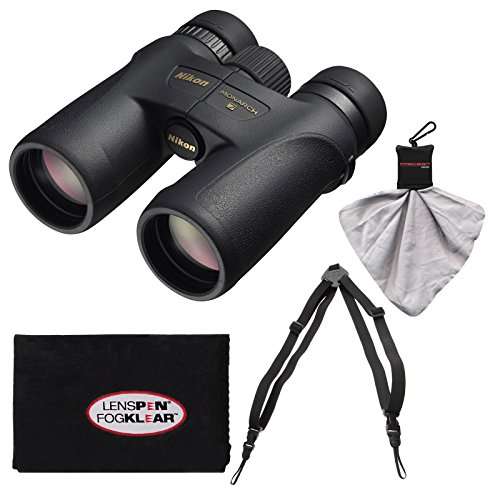 The following items are included:
Nikon Monarch 7 8×42 with Case
Op/Tech USA Bino/Cam Harness
FogKlear Dry Anti-Fog Cloth
PD Spudz Microfiber Cloth
Remember that these items are all brand new and include full warranties in the US.
If you plan to walk around with your binocular, the harness included in this package does make sense. It will prove more comfortable to move around with the harness than the strap provided with the binocular.
Kit #3 – Number of items is 6:
This package has more items in it than the previous two — it has a total of 6 items included yet the price is essentially the same: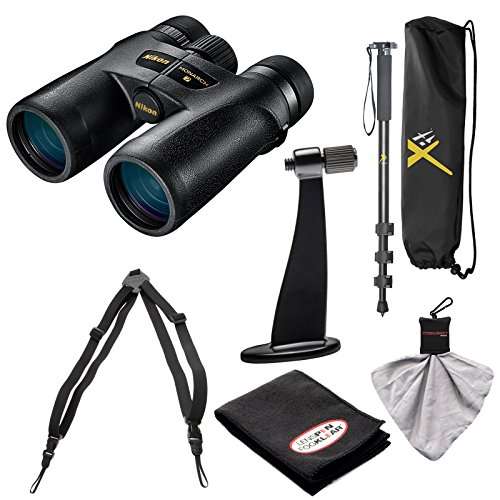 Nikon Monarch 7 8×42 Binoculars with Case
Op/Tech USA Bino/Cam Harness
Binocular Tripod Adapter
Xit 72″ Pro Monopod
FogKlear Dry Anti-Fog Cloth
PD Spudz Microfiber Cloth
Again, all accessories are manufacturer-supplied items and US warranties are included.
With the additional accessories that you can get in this package, this is a no-brainer compare to the first 2 kits.
Kit #4 – Number of items is 5:
This kit is quite the same as the three above with the exception of the phone adapter. The price for this bundle is a bit higher than the previous three though – it's about $520.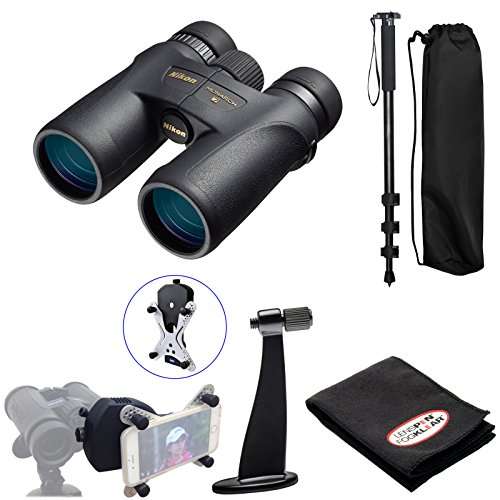 The items included are:
Nikon Monarch 7 8×42 with Case
Snypex Universal Phone Adapter
Binocular Tripod Adapter
Xit 72″ Pro Monopod
FogKlear Dry Anti-Fog Cloth
If you like taking telephoto shots with your binoculars then this kit is perfect for you!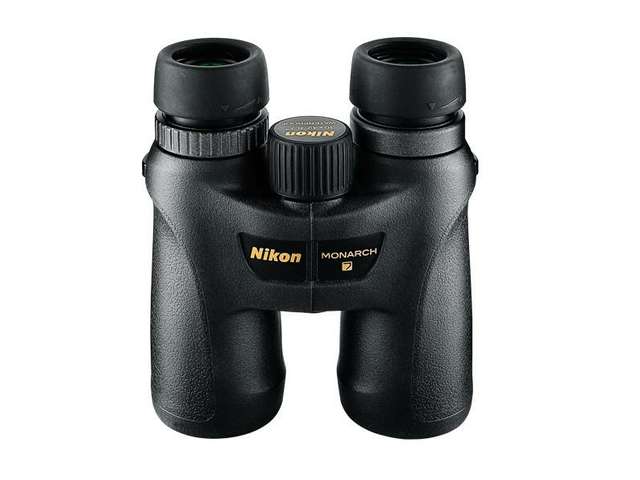 Based on the specifications and comments from actual users plus a very competitive selling price, the Nikon Monarch 7 8×42 is indeed a very great product.
One thing is pretty clear with all the experiences of Monarch 7 8×42 customers – it is an excellent and affordable pair of binoculars that gives you a view that is bright and with distinguished clarity!
It is also important to note that Nikon guarantees their products for life so you'll be rest assured that you have a great product that is backed by an excellent manufacturer's warranty.  This product is a testament that high quality does not necessarily mean to be expensive.
With Nikon's impressive craftsmanship, incredible lens technology, a very high manufacturing quality and outstanding warranty you can never go wrong with the Nikon Monarch 7 binoculars.