Humans are not like some other creatures that can see things in the darkness of the night however, for various reasons, there are some activities that people do during the pitch black hours. Night-time hunting, camping and surveillance are some examples of things that some people do during this time.
If you're into these night-time activities, night vision optics are great devices to have in your arsenal. One particular equipment that is pretty handy is the night vision monocular as it will help you see the unseen world of the dark.
There are different night vision monoculars available in the market these days so in this article we would like to give you some guide on the best models out there.
Unlike other night vision monocular reviews you can read online, we will provide you with a very thorough and comprehensive review of each feature and specifications so you'll have in-depth information regarding a specific model.
Let's get this going now!
The Top 12 Highly Rated Night Vision Monoculars
In this ranking, we have listed the twelve (12) most popular and highly rated NV monoculars. The ranking is based on the user rating, number of user reviews and product ranking.
All the monoculars in our ranking list are all rated 5 out of 5 stars which means that the ranking position was decided mainly by the number of reviews and product rank.
12th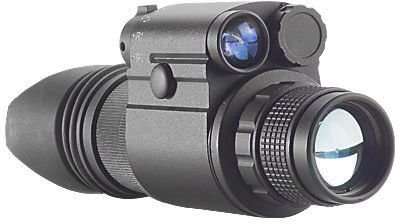 The 12th ranked NV monocular in our list is the Night Optics D-300 Generation 2 Standard Night Vision Monocular, Black.
This monocular is a very versatile model that is designed and constructed with mil-spec optics. It is a multi-purpose monocular that can be used for almost any activity with the appropriate accessory.
This model fits on a rifle pretty good and also on your helmet. It also allows you to use one eye to see night vision and still retain your depth perception, unlike other goggle type night vision devices. You can also attach this to a camera or camcorder so you can record what is happening.
It has a powerful infrared illuminator that you can use to light the night up which enables you to see in the dark hours. Infrared and low battery indicators are provided for your reference.
The housing is compact, lightweight and water-resistant so it could withstand the rigorous environment outdoors.
Other specifications of the D-300 are as follows:
Field of View: 1099 feet at 1000 yards
Range of Focus: 10″ to Infinity
Detection Range: 656 feet (200 meters)
Recognition Range: 495 feet (150 meters)
Diopter adjustment: 2 to -4
Battery requirement: 1 x 3v CR123 (Battery Life: 40 hours)
Dimensions: 5.5″ x 1.8″ x 2.5″ (L x W x H)
Weight: 16 ounces (1 pound)
The Night Optics D-300 will absolutely give you outstanding quality images & views and with its adaptability to various accessories, you'll be amazed on the things that you can do with this night vision monocular.
11th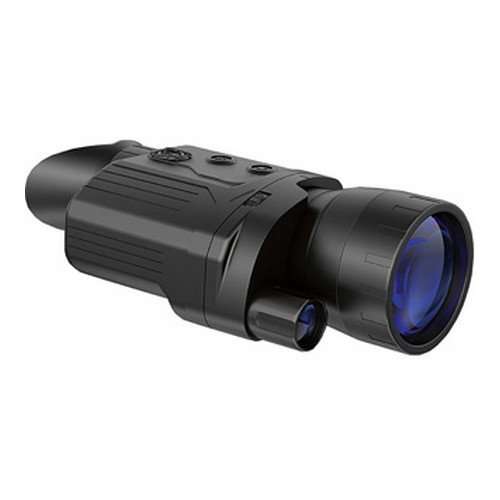 The 11th position is currently occupied by the Pulsar 750 Digital Night Vision IR Monocular.
The Pulsar 750 is a compact and lightweight digital night vision monocular. It weighs only 14.1 ounces (0.88 pound) and with its compact size of 7 inches x 3.2 inches x 2.4 inches (18 x 8 x 6 cm), it fits just rightly on your hand.
The 750 is designed for detection and observation at long distances and, being a digital equipment, is pretty versatile.
The images that you see can be captured and recorded via the integrated analog photo/video output port with a resolution of 640 x 480.
This makes the 750 a great option for nature observation, surveillance, search and rescue operations, and other recreational viewing tasks.
Similar to some other popular models, the default image that you will see through this monocular is a black and white image. However, in addition to that, there are three (3) viewing modes available that can enhance the image quality you see in certain conditions. These are:
High Contrast Black and White. This mode enhances image quality and improves subject recognition
Red filter. The red mode preserves dark adaptation of viewer's eye during observation.
Green filter. In this mode, the display color is simulated like from those intensifier tube-based night vision devices.
For those instances, indoor or outdoor perhaps, when there is no adequate light available, the integrated infrared (IR) illuminator enables your field of view to be flooded with infrared light. This helps you see in total darkness and extends the visible range of this device.
The housing of the Pulsar 750 is constructed with fiberglass-infused composite material that is water-resistant making the body really robust and strong. Integrated into this housing is a combination of 1/4″-20mm threaded mount/Picatinny rail that permits other night vision accessory attachments or other mounting options such as tripod, helmet or head gear.
Other specification are as follows:
Image Sensor: 582 x 500 CCD (Charged-coupled device)
Objective Lens Diameter: 50 mm
Minimum Focus Distance: 10 ft (3 meters)
Infrared Illuminator: 780 nm
Video Output Format: Analog NTSC / PAL
Power Supply: Four (4) AA batteries
Battery Life: Up to 9 hours of operation with IR
Operating Temperature: 14 to 113°F (-10 to 45°C)
Photo resolution: 640 x 480, 320 x 240 (format: JPEG)
Video resolution: 640 x 480 at 30 fps, 320 x 240 at 30 fps (format: AVI)
Because of its versatility, great features and awesome performance in the field, it is no wonder why the Pulsar 750 Digital Night Vision Monocular is a highly rated product and one of the user favorites!
10th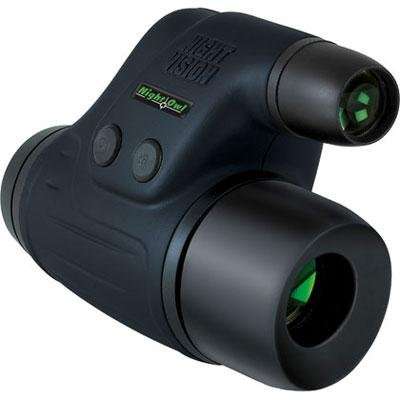 Sitting in the 10th position is the FTPNONEXGENW – Night Owl Optics 2x MONOCULAR.
This is a handy, incredibly lightweight and compact NV monocular that comes with a very good quality Generation 1 image intensifier tube. It has a powerful built-in infrared illuminator which will enable you to see objects in total darkness.
The body that is coated with a soft-touch rubberized coating is attractively stylish and weatherproof. It is comfortable to hold and is durable.
With its simple design and easy-to-use features, it would be ideal to use for hunting, surveillance, camping or wildlife viewing. And with its low price, you will definitely have a great time doing your night time activities without draining your pocket!
Some of the product features and specs are as below:
High quality glass for the objective and ocular lenses
Lens housing: Impact-resistant molded thermoplastic
Objective Lens Diameter: 24 mm
Resolution: 35 lp/mm on center
Diopter adjustment: 4 to -4
Minimum Focal Distance: 1.6 feet
Angular Field of View: 29°
Field of View @ 200 ft distance: 70 ft wide
Dimensions: 5.5"L x 2.23"W x 3.75"H
Weight: 9.1 ounce or 0.57 pounds (weight specified is without batteries)
Power Supply: requires a 3-volt Type-123 lithium battery (not included)
Battery Life: 45 to 100 hours and will depend on infrared usage
9th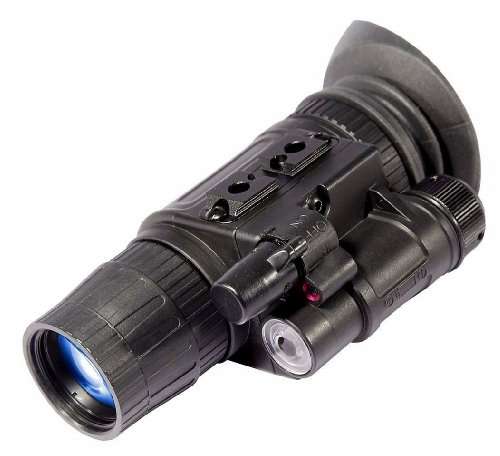 In 9th place is the ATN NVM14-WPT Gen Night Vision Multi-Purpose Monocular.
If you have really demanding nighttime applications, this high-performance night vision monocular is the ideal equipment to use.
It is made with white phosphor technology that expertly detects shades of black and white in your images even in total darkness by using the built-in infrared illuminator.
It also improves contrast and depth perception in your views with its automatic brightness control and bright light cutoff features.
The NVM14-WPT is designed to be a multi-function unit. This simply means you can carry it, mount it on your helmet or your head or onto a weapon. It is also adaptable for use with cameras, as such, this is applicable for so many night time activities.
The magnification of this unit is only at 1x – which means you can't make your view bigger or smaller, what you see is what you get.
The control of this monocular is digital, so no dials or any other strategic little parts to adjust while you're using it which makes it really easy to operate.
Other technical specs of the NVM14-WPT are as follows:
Resolution: 60-74 lp/mm
Lens system: F1.2, 27mm
With Proshield lens coating
Field of view (FOV): 40 degrees
Range of focus: 0.25m to Infinity
Diopter adjustment: -6 to 2
Automatic shutoff system
IR indicator: Yes, it will be indicated in the FOV
Low battery indicator: Yes, it will be indicated in the FOV
Power supply: One 3-volt lithium or one 1.5-volt AA battery
Pretty long battery life of 50 hours
Waterproof
Complies with MIL-STD-810
Dimensions: 4.7 by 1.9 by 2.7 inches (W x H x D)
Weight: 0.62 pounds
With it's really lightweight and compact design together with all of its great features (including a product warranty of 2 years), the ATN NVM14-WPT will surely be a natural hit for users.
8th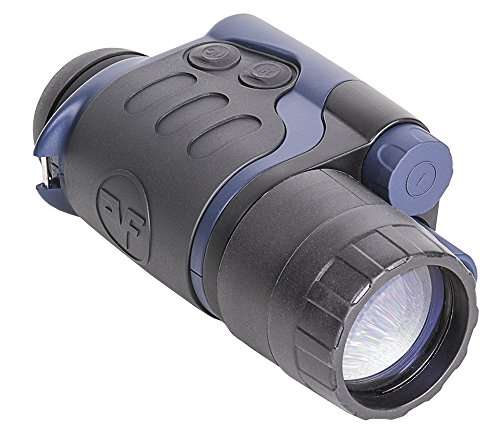 The Firefield FF24122WP Spartan Waterproof Night Vision Monocular is placed 8th in our list.
With its rubberized and waterproof body, the FF24122WP Spartan is a durable night vision monocular that can be used in either land or water.
It has excellent light amplification performance with its fully-multi coated optics and can magnify your view 3x. You can expect minimum glare and great light transmission resulting in an exceptional viewing experience.
The compact and ergonomic design also makes it a pretty lightweight unit that is small enough to fit in the palm of your hand or in your pocket which makes it really handy.
The built-in high power infrared illuminator helps you see object even in total darkness. The unit is powered by a CR123 battery and could last up to 40 hours of use (i.e. without the infrared function).
Other relevant specs are as follows:
Image and resolution: High Quality Gen 1
Tripod mounting: 1/4" socket
Field of view (m@100m): 35.5
Minimum Focusing Distance: 1m
Focusing Type of Distance: Objective
Equivalent IR Power, mW: 100
Battery Life (with IR): 20 hours
Battery Life (w/out IR): 40 hours
Level of Protection (acc. to IEC 60529) – IP66
L x W x H: 162mm x 60mm x 82mm
Compactness and durability plus great performance are the best characteristics of this night vision monocular. So if you're activity would need a robust unit that can withstand harsh conditions, you might want to try the Firefield FF24122WP Spartan.
7th
Next in our list, in 7th place, is the Armasight Sirius-ID Gen 2 Multi-Purpose Night Vision Monocular Improved Definition.
This monocular is one of those high-tech models that is full of features and yet priced very competitively. Hunters and surveillance personnel will surely find this NV gadget pretty amazing.
It has a waterproof and rugged body that is compactly designed so it easily fits your hand. It is also multi-configurable: you can use it hand-held, or mounted on your head or helmet or onto a rifle.
It can also be mounted in front of a video recorder or a camera for dark night photography.
It has a built-in infrared illuminator and flood lens that enables you to see when it is totally dark. The auto brightness control and bright light cut off system features also optimizes the usage of power, conserving battery life.
One other thing that is good with the Sirius-ID is how easy the controls are to operate. It is simple and ergonomic so no hassles in operating it at all.
As a standard, the unit comes with 1x magnification. However, there are optional 3, 5 or 8x lenses that you can buy separately which can turn it into a long range night viewing device in an instant.
Equipped with a high-performance improved definition Gen 2 IIT, the Armasight Sirius ID can provide a viewing resolution between 47-54 lp/mm.
Interestingly, with all its features, the unit is run by only a single CR123A lithium or AA alkaline battery which means less operating expense for you in the long run.
And as a reassurance for you, the product has a limited two-year warranty from the manufacturer – making a great deal even better!
Some other specifications of the unit are as below:
Diopter Adjustment: /-5 dpt
IR Indicator: indicated in FOV
Low Battery Indicator: in FOV
Power Supply: 1x 3V lithium, or 1x 1.5V AA Alkaline
L x W x H: 157 x 60 x 75 mm / 6.2 x 2.4 x 2.9 in
Weight: 0.46 kg / 1.0 pound
Great features, easy-to-operate controls, rugged body and a high-performing Gen 2 technology makes the Armasight Sirius-ID a magnificent night vision monocular.
6th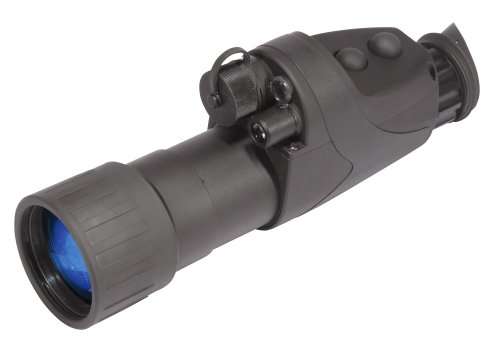 Our 6th place is currently occupied by the ATN NVMNNSPXW0 Night Spirit XT Gen WPT Monocular.
It has a high quality light intensifier tube that is based on White Phosphor Technology (WPT) in combination with a super-fast lens system, providing the user with a very clear and sharp image.
This monocular is designed with total darkness technology which ensures that no condition is too dark for you.
It features Automatic Brightness Control and Bright Light Cut-Off circuitry which automatically adjusts the image in active lighting conditions. It also help protect the operator's eye and the unit from excessive brightness.
The body is ergonomically designed and rugged to suit really harsh conditions such as heavy rain, subzero temperatures or extreme humidity which makes this an all-weather applicable unit.
It is also worth noting that the Night Spirit XT is compatible with video recorder and camera adapters so you can extend its functionalities for applicable activities.
Specs and features of the ATN NVMNNSPXW0 Night Spirit XT:
Multi-coated glass lenses (Proshield protective lens coating)
Built-in infrared illuminator
Minimum focus distance: 10 feet
Automatic Brightness Control
In-view low-battery and IR activation indicators
Manual focus objective lens
Auto-deactivation function
-40 to 122°F operating temperature
Weight: 20.5 ounce (1.28 pounds)
Power Supply: 1 x CR123A Battery
Runtime: Up to 30 hours of continuous operation
Dimensions: 6.9 x 3 x 2.3″ (17.5 x 7.5 x 5.8 cm)
Outdoor enthusiasts will definitely love this NV monocular for its unparalleled performance in the field but at a price that is just easy on the pocket!
5th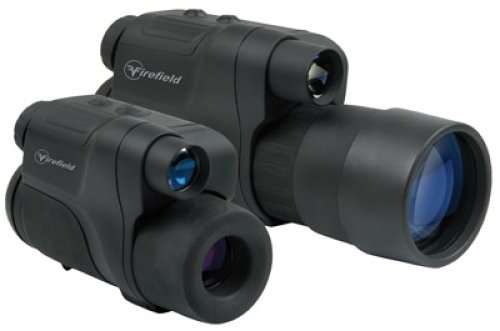 Booking its place in our top five is the Firefield Nightfall 2×24 Night Vision Monocular.
The Nightfall 2×24 is the lightest of all our Top 12 NV monoculars and has the longest viewing range capability. It weighs only 0.56 pound and can view up to 200 meters.
The Gen 1 high resolution intensifier and the multi-coated optics design produce high quality views and detailed images. Its built-in IR illuminator helps you see even in total darkness.
The body is made of a durable rubber armor that is lightweight, compact and water-resistant. It is also ergonomically designed so you can hold it with one hand and make menu/button adjustments with ease.
If you're going to use this for a long time, use of a tripod is recommended. This unit can be mounted on a ¼"-20 tripod using the built-in socket provided.
Other specs are:
Objective lens diameter: 24 mm
Angular field of view: 25°
Battery required : 2x AAA (life of battery: 72 hours without IR; 20 hours with IR)
L x W x H : 5.5" x 2.2" x 3.3"
Accessories included: carrying case, lens cap, hand strap and lens cloth
Limited lifetime warranty
4th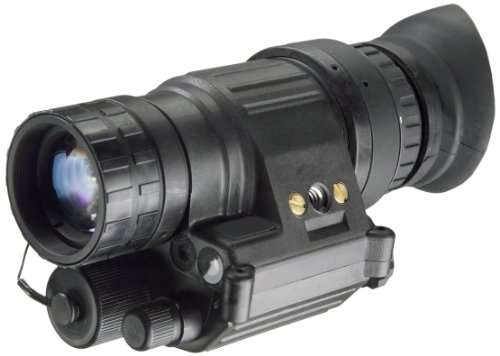 Manning the port in 4th place is the Armasight PVS14-3 Alpha Gen Night Vision Monocular.
The PVS14 is one of the most popular NV monoculars used by law enforcement people. It was the first multi-use monocular in the market that dated back in the late 90's when US militaries first commissioned them.
It is designed with a high performance Gen 3 Alpha tube with manual gain control and an outstanding resolution of 64-72 lp/mm. The built-in infrared illuminator and flood lens enables you to see even in the darkest conditions.
The body is compactly designed making it rugged, tough and waterproof. Having said that, this unit is still pretty lightweight and comes in only at 0.77 pound.
Other features & specifications of this monocular are:
Can be mounted on your head, helmet or weapon
Photocathode Type Thin film GaAs
Range of Focus: 0.25 m to infinity
Diopter Adjustment: -6 to 4
With bright Light Cut-off
Has automatic shut-off system
Infrared Illuminator (built in with flood lens)
Low Battery Indicator in FOV
Power Supply: 1x AA 1.5V (Battery Life up to 50 hours)
Dimension: 114 x 51 x 57 mm / 4.5 x 2 x 2.25 in
Combined with its superb optics, ergonomically simple/easy controls and compatibility with a number of accessories, the PVS14-3 is certainly one of the best systems available in the market.
3rd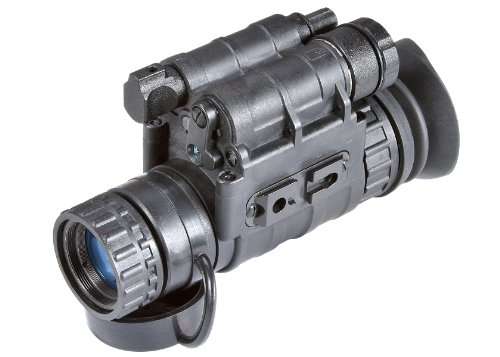 In 3rd place is another model from Armasight, the Armasight NYX-14 GEN 3 Ghost MG White Phosphor Multi-Purpose Night Vision Monocular with Manual Gain.
This model is one of the "new generation" series of night vision monoculars. The optics it uses are equal to or even better than some current military night vision units.
The composite housing used in the NYX-14 Ghost is made tough, compact and built to exceed MIL-SPEC-810 specifications. In doing so, this unit can withstand salt water, high humidity, rain, extreme temperatures and still give supreme levels of performance.
With its high-performance white phosphor technology, this unit provides a clear black and white image of your target at a resolution of 47-57 lp/mm. With its manual gain control feature, image brightness level can be configured or adjusted to correct for ambient light as well.
The NYX-14 is also compatible with a whole array of accessories. The standard model comes with a 1x magnification but other magnification lenses are also available (i.e. 3x, 5x and 8x) so you can view targets from mid to long range.
Hands-free operation (head, helmet or weapon mounting) is also possible with this monocular, you just have to have the appropriate accessories in order to do so.
It is also equipped with a high-powered IR illuminator for really dark applications. There is a bright-light cutoff feature as well.
Features and technical specs of NYX-14:
Ergonomic and simple controls make this unit pretty easy to operate.
Manual brightness control
It is adaptable for use with cameras
IIT Generation Gen 3 Ghost – "Ghost" White Phosphor Technology
Range of focus: 0.25 to infinity
Diopter adjustment: -6 to 2
Automatic Brightness Control
Automatic Shut-off system
Low battery indicator in  FOV
Power supply: 1x CR123A 3V Lithium (Battery Life up to 60 hours)
Dimension: 140 x 49 x 69 / 5.5 x 1.9 x 2.7 (L x W x H; mm/in)
The features and capabilities of the NYX-14 will make it meet the challenges of a lot of different tasks that you are required to do with absolute ease. It is indeed one of the best night vision monocular units out there.
2nd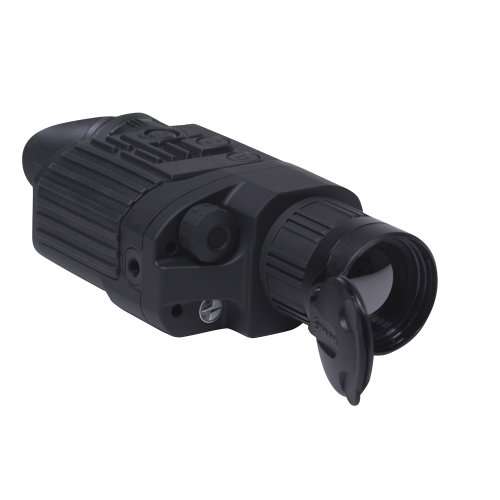 Just one spot off the top is the Pulsar HD38S Thermal Imaging Scope Quantum Monocular.
The technology behind Pulsar HD38S can detect heat signatures way beyond what other night vision units can see. Whether it be night or day, it can penetrate fog and smoke which makes it very ideal for search and rescue, hunting and undercover military operations.
Engineered using a germanium glass, the HD38S allows for maximum thermal sensory sensitivity. It captures an object at a rate of 30 frames per second, which makes for a smooth and consistent image – even those fast moving creatures!
This NV monocular has various operating and calibration modes which allows you to customize the monocular to your surrounding environment. You can even switch between "white hot" and "black hot" which enables you to see targets distinctively even at long distances.
The three (3) new brightness modes available are: City, Forest and Identification. These different modes deliver enhanced contrast that significantly improves hot object rendering giving you perfect recognition of your targets. The view through the scope is a tinted Sepia tone that is pleasant on the eyes.
Calibration of the unit is easy as 1-2-3. Users can choose from automatic, manual or semi-automatic modes. The unit then calibrates the image in just one to two seconds. . It also features a 10-second startup function so you can begin viewing quickly.
The staggered control buttons are ergonomically located which makes it easily accessible to both right- and left-handed users and very much effortless to locate in pitch black darkness. There is also an easy menu system for some advanced features.
The unit can be mounted on a tripod mount with a 1/4″ tripod socket. It also features a standard Weaver rail and tripod mounts, allowing users to attach external power supplies or recording devices.
The compact body/housing is made with a durable but light glass-nylon composite. It weighs just over one pound (including the batteries). It is weather resistant and able to withstand the harsh outdoor conditions.
Other specs and features of the Pulsar HD38S:
640 x 480 OLED Display (the clearest display resolution available on the market)
384×288 microbolometer sensor, 30hz refresh rate
2x digital zoom (this essentially increases the magnification to 4.2x)
Field of View, horizontal * vertical: 14.4 x 10.8
Brightness and Contrast control
Battery requirement: 4 x AA
Battery life: 5.5 hours (some users have more than 7 hours with Li-Ion batteries)
Can be connected with External Power Supply using a special jack
Control knob is very user friendly
Includes carrying case, output video cable, hand strap, car adapter, extra battery container, lens cleaning cloth
With its long distance accuracy, you can easily detect, recognize and identify targets with utmost precision. You can spot targets even up to more than 1000 yards (914 meters) with this unit.
You can throw out all the confusion and struggles with your night time hunting using this device. Long range hunting and surveillance at night is made easier with this gadget!
It is a totally different world out there at night and the HD38S helps you see and appreciate that. You will be pretty surprise to learn things about the habits and movement of animals that you wouldn't have had the ability to see before.
1st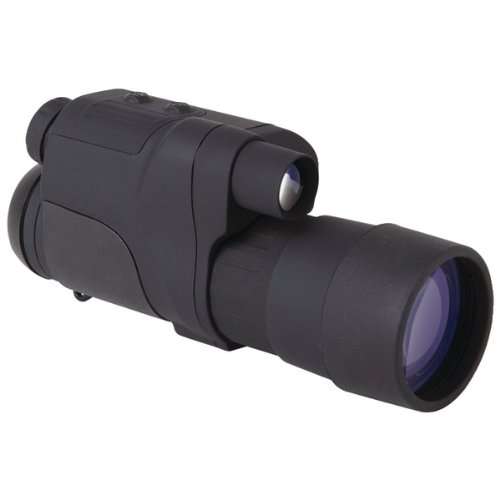 Rounding up our Top 12, in first place, is the JAYBRAKE Firefield FF24063 4x50mm Night-Vision Monocular.
It features a 1st Generation image intensifier tube with a 50mm objective lens and multi-coated optics.
It offers detailed views and images with improved range and adequate visibility even in total darkness using the built-in LED infrared illuminator. A 12-mm eye relief for this monocular accommodates users that wear eye glasses.
The body is compact, rugged, lightweight and water resistant. The armor which is made of rubber provides for a more secure and non-slip grip. The body is also ergonomic and slender which allows you to hold it with one hand and operate the menu buttons pretty easily.
The objective cup has a rubberized covering which can be rotated to adjust coarse. Once you've set up your coarse setting, you can then adjust the diopter to fine tune your focus.
If you're planning to use it for a long time, the Firefield FF24063 can also be mounted on a 1/4″-20 tripod via a built-in socket. This makes for a more stable and comfortable viewing.
Some accessories included with the monocular are a hand strap, a carrying case, a cleaning cloth and an objective cap.
Other specs and features of the Firefield FF24063:
Angular field of view: 15°
Pulsed illumination mode consumes less energy
Twist-up eyecup prevents light leakage and provides comfort
1/4″-20 socket for tripod
Battery requirement: 2 x AAA (Battery life: 72 hours without IR; 20 hours with IR)
Dimensions: 7.3 x 3.3 x 2.3″ (18.5 x 8.3 x 5.8 cm)
Weight: 21 ounces (1.31 pounds)
The night vision capability and overall quality of this monocular is really great and users are really happy with this model. Some claim to have seen very good detail of images as far as 200 yards without even using the infrared light!
GREAT FEATURES AT A VERY GREAT PRICE! It pretty much sums up the JAYBRAKE Firefield FF24063 4x50mm Night-Vision Monocular.
Top 12 Night Vision Monocular Summary
The below table summarizes our Top 12 with some of their features for you to look at:
| Rank | Model | Size | Generation | Magnification | Angular FOV, ° | Range, m | Weight, lbs. |
| --- | --- | --- | --- | --- | --- | --- | --- |
| 1 | Jaybrake Firefield FF24063 NV Monocular | 4x50 | Gen 1 | 4x | 15 | 200+ | 1.31 |
| 2 | Pulsar HD38S Thermal Imaging Scope Quantum Monocular | 2x38 | Digital | 2.1x | - | 914 | 1.0 |
| 3 | Armasight NYX-14 GEN 3+ Ghost MG White Phosphor Multi-Purpose Night Vision Monocular with Manual Gain, Black | 1x27 | Gen 3 | 1x | 40 | - | 0.88 |
| 4 | Armasight PVS14-3 Alpha Gen Night Vision Monocular | - | Gen 3 | 1x | 40 | - | 0.77 |
| 5 | Firefield Nightfall Night Vision Monocular | 2x24 | Gen 1 | 2x | 25 | 200 | 0.56 |
| 6 | ATN NVMNNSPXW0 Night Spirit XT Gen WPT Monocular | 3x50 | Gen 2+ | 3x | 18 | - | 1.28 |
| 7 | Armasight Sirius-ID Gen 2+ Multi-Purpose Night Vision Monocular Improved Definition | 1x24 | Gen 2+ | 1x | 40 | - | 1.0 |
| 8 | Firefield FF24122WP Spartan Waterproof Night Vision Monocular | 3x42 | Gen 1 | 3x | 20 | 150/165 | 1.1 |
| 9 | ATN NVM14-WPT Gen Night Vision Multi Purpose Monocular | 1x27 | Gen 2+ | 1x | 40 | 100 | 0.62 |
| 10 | FTPNONEXGENW - Night Owl Optics MONOCULAR | 2x24 | Gen 1 | 2x | 29 | 150 | 0.57 |
| 11 | Pulsar 750 Digital Night Vision IR Monocular | 4x50 | Digital | 4x | - | - | 0.88 |
| 12 | Night Optics D-300 Generation 2+ Standard Night Vision Monocular, Black | 1x25 | Gen 2+ | 1x | 40 | 150/200 | 1.0 |