Carrying a pair of binoculars won't always be a nuisance for enthusiasts wanting to see the perfect view whether it be for birds, nature, wildlife, sports events or simply looking at your hunting target.
However, carrying along a too "heavy" binocular for long hours would weigh down even the most avid of hobbyists.
When you feel like you're being dragged down by a heavy load with your binoculars, switching to a "lighter" pair will always spring a sigh of relief. If you don't have an extra pair available, it is high time you consider buying yourself one.
To give you some ideas on which one to buy, we have listed down the top 10 best lightweight binoculars below. Check them out!
CLICK HERE to go to Amazon for our #1 Lightweight Binoculars, the Bushnell Legend Ultra HD 10×25 Compact Folding Binoculars, and see the latest price PLUS any available DISCOUNT!
The Top 10 Best Lightweight Binoculars
This Top 10 list is derived based on the binoculars' weight primarily and of course the user rating should be high (above 4.5 stars) plus the number of users should be at least five (5) people to make the list. Check them out!
10th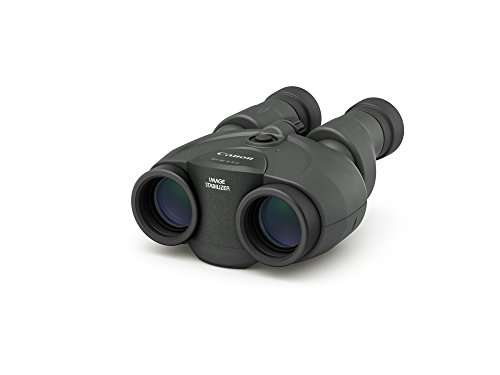 In 10th place, having a weight of 1.323 pounds (21.16 ounces), is the Canon 10×30 Image Stabilization II Binoculars.
It is a Porro-prism type binocular that has superb image stabilization (IS) features which makes for sharp, virtually distortion-free images from edge to edge.
With its pretty decent field of view, this binocular is ideal for bird watching, travel, sports and other related outdoor activities.
It has an average rating of 4.6 stars from 50 users which is an indication that this is a great product.
Features include:
Vari-angle prisms to compensate and correct for external shaking
High performance microcomputer with advanced algorithms which enhances image stabilization and ensures efficient operation
Doublet field-flattener lenses in the eyepieces to correct field curvature and image degradation at the edges of the frame
Battery-operated (alkaline or nickel-metal hydride)

9th
Coming in at 9th position is a binocular that has got a very high user rating of 4.9 stars, with a weight of 1.2 pounds (19.2 ounces), the Steiner AZ830 Binocular.
Included features are:
Uses flexible silicon lens mount to absorb severe shock, impact and abuse without damage
Comfortable to carry because of its compact design. It could fit neatly in your pack.
Sports-Auto Focus System which lets you focus each eyepiece to your vision once and then keeps images razor sharp from 20 yards to infinity. No more chasing focus on moving objects!
Makrolon housing which is made of durable polycarbonate with NBR Long Life rubber armoring
Steiner's Industry Leading Heritage Warranty

8th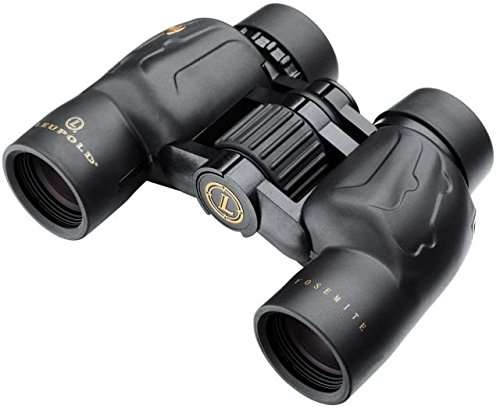 With just a shade over one pound, the 8th position is occupied by Leupold BX-1 Yosemite Porro Prism 6×30 Binoculars with a weight of 1.063 pounds.
It has a pretty high average user rating of 4.8 from 97 user reviews. In all of the lightweight binoculars in this list, this one has the widest FOV at 420 feet so if you prefer to see more of the views, this binocular will definitely give you what you want.
It also has a long eye relief at 18.5mm which is excellent for those who wear glasses.
Other features are:
Smooth focusing via the center knob
Coated armor which is rugged and waterproof
Ergonomically design to give you a great feel

7th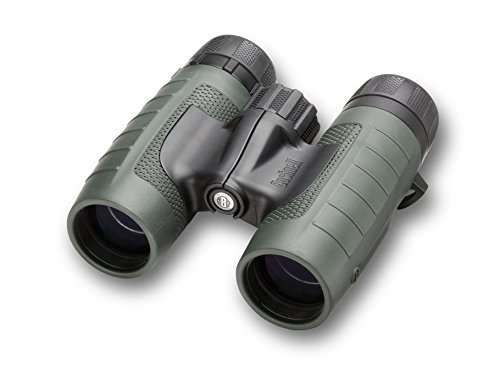 From 7th to 1st place is where you would find binoculars weighing less than a pound. So if you're really looking for light-as models, be sure to check all of them out.
Going back to our listings, in 7th place is the Bushnell Trophy XLT Roof Prism 8x32mm Binoculars with a weight of 0.969 pound.
It has a wide field of view of 393 feet and long eye relief @ 16.5mm. This binocular is rated at 4.6 stars from 111 users so pretty impressive!
Features include:
Stunning HD clarity optics
Delivers really bright and razor-sharp images because of the fully multicoated optics
Dura-Grip rubber-armored housing
Soft-touch thumb grips on the side of the body for great ergonomics
Objective lenses with flip covers

6th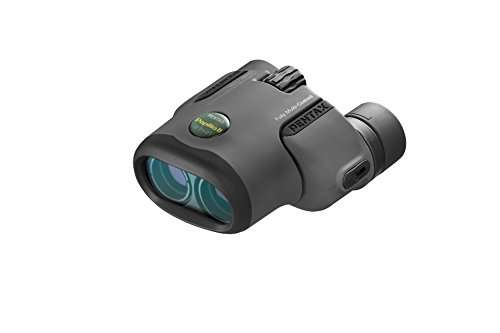 Occupying the 6th place position are the Pentax Papilio II Binocular series.
Although the 6.5×21 model should technically be at this position, we intentionally included the 8.5×21 model as well because they have the same weight.
The 6.5×21 has a higher user rating of 4.9 out of 5 stars from 34 users compare to the 8.5×21 which got a 4.8 from 29 users. Nevertheless, these two (2) models are definitely highly rated binoculars so you can't go wrong with either of them.
The Papilio II series binoculars have a very near close-focus capability – 1.7 feet – which is why users love to use them to look at insects and butterflies.
Some of the common features are:
Fully multi-coated optics
Aspherical lens elements provide outstanding edge-to-edge sharpness
Synchronized eyepiece adjustment

5th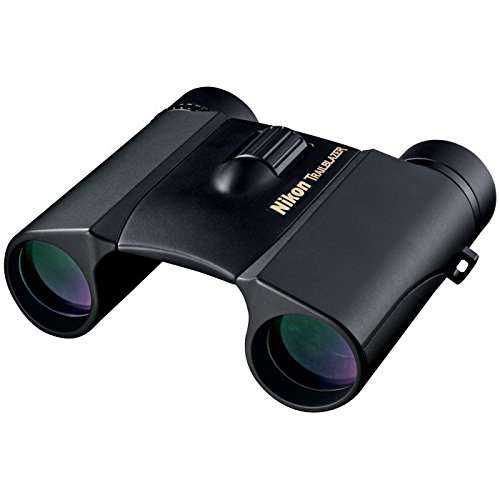 Having a weight of 0.619 pound, the Nikon 8218 Trailblazer 10X25 Hunting Binoculars landed 5th in our list.
This is an all-terrain-binocular that is waterproof and fogproof with a sleek and lightweight body.
It has a really good user rating, 4.7 out of 5 stars from 170 users which is really incredible.
Included features are:
Lead-and arsenic-free Eco-Glass optics
Rubber coating for a more comfortable grip
Multiple layers of anti-reflective compounds offer crisp, sharp viewing

4th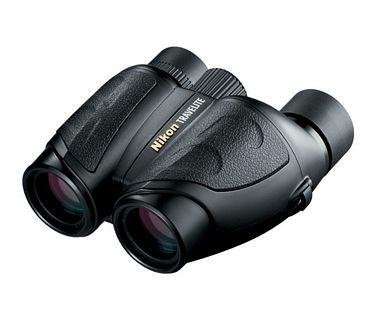 In 4th place is the Travelite VI binocular series from Nikon. Same as what we've done with the Pentax Papilio II series binoculars, we grouped the Travelite series in one rank as they basically are in the same group.
The Travelite VI models in this position are the 8×25, 10×25 and 12×25. The 8×25 is the lightest in this series with a weight of 0.581 pound, followed by the 10×25 with 0.594 pound and last, but not least, is the 12×25 with a weight of 0.606 pound.
Some features of the Travelite series are:
Larger central focusing knob for smooth operation
Compact rubber coated design for easy grip
Click-type diopter adjustment ring for precise settings

3rd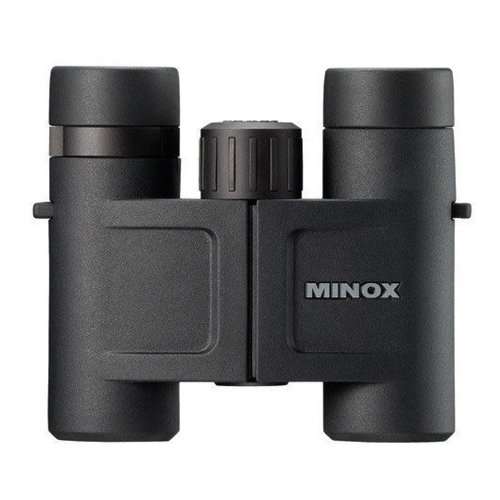 3rd place is occupied by the BV 8×25 from Minox with a weight of 0.571 pound.
This is one of the most popular Minox models and we have a very comprehensive review of it in this article.
Users love this lightweight and compact binocular so go ahead and check it out.
2nd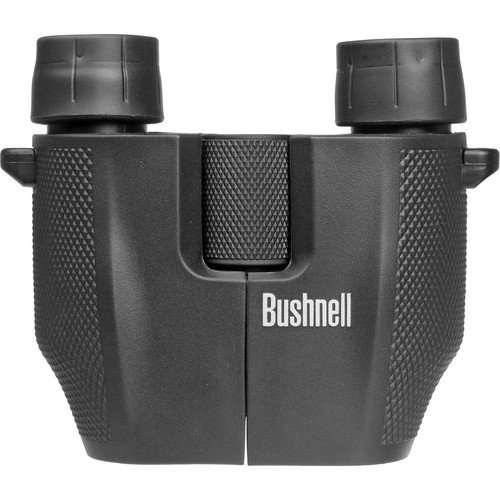 2nd place is taken by the Bushnell Powerview 8×25 Porro Binocular with a weight of 0.569 pound.
More than two hundred (200) users have evaluated this binocular and they ended up with an average rating of 4.6 which is an incredible achievement.
Binocular features:
Fully coated optics for a brighter image
BaK-7 prisms and multi-coated optics for superior resolution and image clarity
Non-slip rubber armor that is rugged and shock-absorbing,
Limited lifetime warranty
The package comes with pouch (or case), neck strap, cleaning cloth and lens covers.
NOTE:  If the eyecups won't fold down when used with glasses, you have to put rubber bands and hold them down overnight and give it a little heat using a hair dryer. This will help stretch them out a little to make it more comfortable for glass wearers.
What Is The Bushnell Powerview 8×25 Good For?
Here are some of the things that this binocular can be used:
Bird watching or backyard birding
Looking up into the woods for edible wild mushrooms
Walking with pets on mountains
Most daylight viewing needs
To take on trips where there just isn't enough room for the larger models
Gifts for kids and loved ones
What Do Users Like With Bushnell Powerview Porro 8×25?
Here are the points that users like about the Powerview 8×25:
Light and portable, easily fits in pockets
Just like the size of the palm of one's hand
Feels comfortable to hold in the hands
Easy to handle and adjust
Easy to carry or hang around your neck
Little, lightweight and inexpensive
Clear, sharp and powerful
Sharp image from edge to edge
Right power, easier to hold steady
Light transmission and color is good
High quality at a reasonable price (great for the money)
Clarity and range is great for the price
Close focus feature is really nice
Good for relatively close objects
Great for people with small IPD's
Amazing piece of work for the price
Solid, rugged, durable construction
The focus of one eye can be adjusted separately to compensate for a difference in vision between your eyes
The material covering the binoculars allow for a good grip
Easy to focus, mechanism is smooth
Nice soft case (comes with belt loop)
What Do Users Don't Like With Bushnell Powerview Porro 8×25?
Some people found the following points not to their liking. Take note of them as they might be applicable to you as well.
Right focusing eyepiece seems to lose focus easily which results to refocusing regime
Diopter setting tends to move so you have to remember your setting
A bit of work is required to get the eye cups to stay folded down when using with glasses
Not the usual twist-up eye cup position adjustments
A bit harder on the eyes compare to a full size binocular
A few very minor spots to the edge of your field of vision that's a little out of focus but not too big an issue
Does not work well under low light conditions
No tripod adaptor provided
Not waterproof
Don't have a long range
Eyepieces doesn't seem as sturdy
Some people find the neck strap not too comfortable
Eyepieces are not removable/replaceable
Eyecups are a bit small and some users find it uncomfortable because the eyecups rest on their eyeballs
The Bushnell Powerview 8×25 Porro binocular is a compact and lightweight binocular that is designed for general outdoor purpose use.
It is a great product with high-quality optics however, because of its size and magnification, it has its limitations. Of course, if it is used by someone or for something that it is not intended for, there will be issues.
Try to take note of the points we've laid out above so you'll be properly guided with regards to this binocular.

1st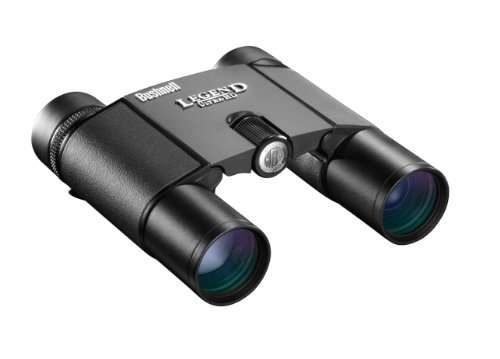 And in our top spot is the Bushnell Legend Ultra HD Compact Folding Roof Prism Binoculars, 10 x 25-mm, Black with a weight of 0.506 pound.
It has a high user rating of 4.7 stars, coming out from the more than 60 people who bought it.
This is a compact-folding binocular that has excellent quality optics that provides stunning and high definition, super clear images.
Other features are:
Exceptional optics with BaK-4 prisms, ED Prime Glass, Ultra Wide Band Coatings
RainGuard HD water-repellent lens coating
Lightweight, magnesium chassis and soft touch grips
What Applications Is This Binocular Good For?
Birding
Whale watching
Perfect for someone who likes to hike light and checking out the landscape or some amazing views along the trail
Travelling
Running
Taking zoom photos through one lens
Multi-day walking
Spotting at a range
Sightseeing from a mountain top
Nature and wildlife viewing
Watching sports events and concerts
Stalking and hunting
What Users Like With Bushnell Legend Ultra HD?
We've researched on actual users and listed below the different things that they like about the Bushnell Legend Ultra HD.
Optics:
Phenomenal image quality and clarity (comparable to a more expensive binocular)
Great performance even in low light (better than expected)
Excellent contrast and sharp
No color fringing
Crisp view from a few feet away up to hundreds of yards out
Very compact with high-definition optics (small, clear and powerful)
Body:
Built is pretty solid and well-made
Sturdy construction
Portability:
Fits easily in most pockets
Size makes it very mobile and portable
The double-hinged design perfectly suits the compactness of this model
Easy to carry around and simple to use
Very handy, fogproof and waterproof
Feels good in the hands
Slim, light and easy to hold
Application:
Applicable for most general outdoor activities
Other features:
Diopter setting is smooth and firm
Center focus wheel is smooth and a joy to use
Doesn't drift out of focus even when you're running
Great for people with small inter-pupillary distances
Good eye relief, the twist-up eye cups are excellent and comfortable
Great even with glasses or sunglasses on
Price value:
Very nice balance of price, performance and size
High quality but budget-friendly
Excellent value for the money
Accessories:
Case is nice
Nice neck strap
Does not need any battery
What Users Don't Like With The Bushnell Legend Ultra HD?
In our research as well, below are the things that users don't like about the Bushnell Legend Ultra HD binocular:
Doesn't work well with non-steady hands
Should be better if lens caps are provided
Field of view is a bit narrow
Neck strap is nice but bulky
If you're looking for a lightweight and compact binocular with a very good price, then this model from Bushnell ticks all the boxes! With great evaluations from users and high product rating, we highly recommend you check it out by clicking the box below.

Top 10 Best Lightweight Binoculars Table Summary
Here is a tabulated summary of our Top 10 Lightweight Binoculars:
| Rank | Model | Weight, ounce | Weight, lb(s) | User Rating | # of User Reviews | Size (L x W), inches | Prism Type | FOV, feet @ 1000 yards | Close Focus, feet | Eye Relief, mm |
| --- | --- | --- | --- | --- | --- | --- | --- | --- | --- | --- |
| 1 | Bushnell Legend Ultra HD Compact Folding Roof Prism Binoculars, 10 x 25-mm, Black | 8.1 | 0.506 | 4.7 | 66 | 4.6 x 3.4 | Roof | 285 | 6 | 15.5 |
| 2 | Bushnell Powerview 8x25 Porro Binocular | 9.1 | 0.569 | 4.6 | 205 | 4.1 x 3.9 | Porro | 340 | 6 | 12 |
| 3 | Minox BV 8x25 Binocular | 9.14 | 0.571 | 4.5 | 28 | 4.29 x 3.85 | Roof | 358 | 4.92 | 15.5 |
| 4 | Nikon 7277 8 X 25mm Travelite Vi Binoculars | 9.3 | 0.581 | 4.7 | 42 | 4.6 x 4.6 | Porro | 293 | 9.8 | 14 |
| 4 | NIKON 7278 Travelite VI Binoculars (10 x 25mm) | 9.5 | 0.594 | 4.6 | 70 | 4.3 x 4.6 | Porro | 262 | 9.8 | 11.1 |
| 4 | NIKON 7279 Travelite VI Binoculars with 12 x 25mm | 9.7 | 0.606 | 4.7 | 29 | 4.3 x 4.6 | Porro | 220 | 13.1 | 11.1 |
| 5 | Nikon 8218 Trailblazer 10X25 Hunting Binoculars | 9.9 | 0.619 | 4.7 | 170 | 4.1 x 4.5 | Roof | 342 | 11.5 | 10 |
| 6 | Pentax Papilio II 6.5x21 Binoculars (Gray) | 10.2 | 0.638 | 4.9 | 34 | 4.6 x 4.3 | Porro | 393 | 1.7 | 15 |
| 6 | Pentax 8.5x21 U-Series Papilio II Binocular | 10.2 | 0.638 | 4.8 | 29 | 4.6 x 4.3 | Porro | 315 | 1.7 | 15 |
| 7 | Bushnell Trophy XLT Roof Prism Binoculars, 8x32mm | 15.5 | 0.969 | 4.6 | 111 | 4.5 x 4.7 | Roof | 393 | 9.8 | 16.5 |
| 8 | Leupold BX-1 Yosemite Porro Prism Binoculars | 17 | 1.063 | 4.8 | 97 | 4.6 x | Porro | 420 | 10 | 18.5 |
| 9 | Steiner AZ830 Binocular | 19.2 | 1.2 | 4.9 | 18 | - | Porro | - | - | - |
| 10 | Canon 10x30 Image Stabilization II Binoculars | 21.16 | 1.323 | 4.6 | 50 | 5 x 5.9 | Porro | 344.5 | 13.8 | 14.5 |
Based on the above list, the weight of the binoculars range from half a pound to less than one-and-a-half pounds – men, these are all lightweight! From 1st place up to 7th place, all binoculars weigh less than a pound.
You might notice in 4th place, we just put the Nikon Travelite models in the same rank because they are from the same series anyway, so no need to rank them differently.
The user ratings are all on the upper end of the 5-star rating as well, with the lowest rated binocular having a 4.5 rating. The number of user reviews is pretty high as well which means that the product rating was based from a significant number of people.
You can sort the table by clicking the arrows on the columns. If you want to see which model got the longest eye relief or the widest field of view, just click on relevant columns and you'll see the table adjust accordingly.
Other interesting facts that can be seen from the table:
 Most binoculars listed are of the Porro prism type
The highest rated binocular has a 4.9 user rating
The most number of user reviews is more than two hundred (200)
The widest FOV is 420 feet @ 1000 yards while the lowest is 220 feet
The shortest close focus capability is 1.7 feet!
The longest eye relief is 18.5mm and the shortest is 10mm
Summary & Conclusion
Looking at different things using a binocular is indeed a wonderful and pleasurable hobby. However, carrying a heavy binocular for long periods of time may negate the fun in it and would make you feel tired about it.
Having a pair of lightweight binoculars is a great solution for this dilemma. It would never take away the enjoyment on your outdoor activities.
As a guide, we have provided a list of the Top 10 Best Lightweight Binoculars to help you on your search for that perfect lightweight model.
The lightest being the Bushnell Legend Ultra HD 10×25 Compact Folding Binoculars.
Hope you find this valuable and see you on our next coming articles.