Barska X-Trail 8×42 Binocular
The Barska X-Trail 8×42 binocular is one of the popular model in Barska's huge selection of all-purpose binoculars.
Just like the other binoculars in the all-purpose range, the Barska X-Trail 8×42 is designed and made for the great outdoors.
Generally, the X-trail series have large objective lenses with multi-coated optics. This means that light gathering and transmission is pretty high so you'll be seeing bright and clear images even in low light situations.
In this Barska X-Trail 8×42 review, we will point out the specific features and other technical specifications so you could appropriately evaluate if this model would suit your applications in mind.
Product Description and Review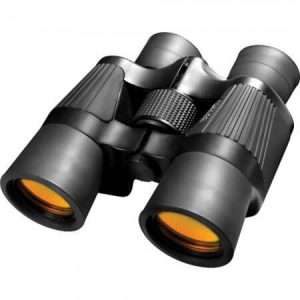 Binocular Design
The X-Trail 8×42 is of the reverse porro prism design which makes it more compact compare to a regular porro prism.
This design is sometimes referred to as the 'M' design as the binoculars tend to form an M-shape configuration resulting in a more compact setup and lighter weight.
Lens System 
This X-Trail unit has 42mm objective lenses. The prism glass is made of BK-7. The glass and lenses have Ruby multi-coating to keep an optimum light transmission efficiency.
The field of view (FOV) of this binocular is 378 feet @ 1000 yards (or 126 meters @ 1000 meters) which makes for a wide enough view for your images or scenery.
The Close Focus capability of the 8×42 is 33 feet (10 meters) which means it can't be used on those extra-near or microscopic views you want.
This model has a central focus system so you could adjust your views pretty easily. The diopter adjustment is located on the right eye to help you adjust your focus accordingly.
If you wear eye glasses, you won't have problems with this model as the featured eye relief is 20 mm, which is sufficient enough for most eyeglass wearers. The eye relief can be adjusted using the fold down eye cups.
Magnification 
This binocular comes with a fixed magnification of 8x, there is no zoom feature available. With a 42-mm objective lens, the resulting exit pupil @ 8x would be 5.25mm.
With the 8×42 configuration, the resulting Twilight Factor would be 18.33 while the Brightness Index would be 27.56.
Body
The housing and frame material of this binocular is made of a high-grade aluminum which makes for a light yet rugged construction.
The body is covered with a rubber armor that protects the housing and is finished with a black matte color for an awesome look.
The physical size of the X-Trail 8×42 is 6.5" x 5.5" x 3" (or 165mm x 140mm x 76mm) so it is not big enough to be classified as "big" but not small enough to be classified as compact. It takes a bit of a space so won't fit in your pocket.
The product weighs 26.46 ounces (1.65 pounds or 750 grams) so it is not that heavy but if you'll be using it for long periods, it might affect you somehow. If this is the case, you can always mount it on a tripod as this is a tripod-adaptable model.
Take note that this binocular is not waterproof nor fogproof, so you can't use it on extreme weather conditions. If you're activities involve water or cold environment, this binocular is not the right type for you.
Included Accessories
The Barska X-Trail 8×42 binoculars include the following accessories:
Carrying Case – helps keep the binoculars in storage while you're not using them
Neck Strap – a handy strap to keep the binocular ready when you need to view something
Lens Covers – helps protect the lenses to avoid scratches and dust
Lens Cloth – something that you could use to wipe and clean your binoculars
Warranty
This binocular is protected by Barska's Limited LifeTime Warranty.
Advantages:
Extremely cheaper price compare to other brands
Great warranty scheme from the manufacturer
Applicable to most outdoor hobbies
Disadvantages:
Not applicable in cold or freezing temperatures
User Reviews and Feedback
Pros:
"Better than higher-priced ones. Beautiful optics… great binoculars at such a reasonable price…"
"Light gathering and transfer ability is amazing…pretty damn good pair of binoculars for a price of less than $40!"
"These binoculars are easy to use and clarity is great…"
"…The protectors over the lens fit perfectly and don't fall off…"
"These work well with my eye glasses…"
"… Very clear and vivid sight…"
"Great for nature viewing, hiking and birding…"
"Easy to use and light to carry… good size to carry around"
"…Great for short distances…"
"Nice and clear…great value"
"Great for bird watching…"
"…They don't feel cheap, instead they feel durable… ok with or without my glasses…"
"Very nice binoculars, exceeded my expectations…"
"This is a jackpot! Crystal clear, sturdy and great price!"
"Very impressive binoculars!"
"This is an awesome deal. Really sharp at a price that is much lower than other brands!"
"Considering the price, this is really good!"
"They are clear and crisp… seems to be quite nice for the price!"
"Excellent clarity and sharpness, for the price this is an excellent buy!"
"Didn't expect such great quality at such a reasonable price…"
"These are solid yet inexpensive utility binoculars. You can't beat them for the price!…"
"They don't feel like they are cheaply made, very sturdy product…"
"Feels solid in your hands, very sturdy and well made…"
"They are great even at night time… dropped them a few times but had no problem, very well made…"
"…Outstanding clarity for the price…"
Cons:
"Not that light… a little on the heavy side"
"The strap and the case feels cheap, lens covers are too loose and fall off on their own…"
"Wish the strap was wider or has a strap pad…"
The Barska X-Trail 8×42 binoculars is designed for the great outdoors and truly enough, based on user comments and reviews, is extremely rugged and durable to be an all-purpose type.
Considering the price, you'll be amazed by the quality of this product from Barska. Although the accessories appear to be like "cheap" according to some users, the binoculars itself is clear and physically well-made.
The outstanding clarity of the X-Trail's optics is unimaginable if you look at its price of less than $40 bucks! You would never believe it – not all good stuff is expensive!
If you have the money to go for the "BIG" brands, by all means go for it. But if you want to have something great that gives you outstanding value for your money (with a very good warranty in place), then the Barska X-Trail 8×42 binoculars is the logical choice.
CLICK HERE to go to the product page.