Nikon P-223 3×32 Riflescope
If you have an AR-15 style rifle, you would need a compatible, well-suited riflescope to create that perfect combination – providing you with a nice, precision setup to shoot and accurately hit targets in the field.
This is where the Nikon P-223 3×32 riflescope perfectly fits in! In this article, we shall take a look at this piece of optical accessory from Nikon and present to you a comprehensive review of this riflescope so that you would know if this scope is really worth a spend of your hard-earned money.
What Is The Nikon P-223 3×32 Riflescope Good For?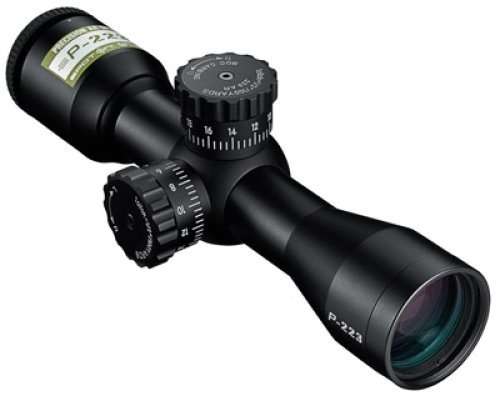 The Nikon P-223 3×32 scope is specifically built and designed for the .223 Rem/5.56mm NATO round. With its trajectory-compensating reticle, you would know the exact aiming points for your AR rifle.
The caliber-specific reticle that comes with the P-223 3×32 combined with the fully-multi-coated optics is a lethally-precise combination that would simplify longer range shooting with your AR and gives you amazing results.
The P-223 is fully optimized for Spot-On Ballistic Match Technology which enables you to ascertain the exact aiming precision points on the BDC carbine reticle, both in-close and out to 600 yards, with practically any caliber or load.
Nikon understands the need for a light, do-it-all riflescope that can keep up with shooters who use fast-handling AR platform rifles this is why the P-223 was designed with the following attributes in mind:
Compact riflescope for quick close-quarters shooting
Superior long-range accuracy
What Are The Features & Specifications of The Nikon P-223 3×32 Riflescope?

Now that you know what the P-223 3×32 is good for in the previous section, we shall talk about the different features and specifications that this riflescope has to offer. The following features are the things that you can expect with the Nikon P-223:
The entire optical system is fully multicoated. This enables light transmission of up to 98% giving you extreme brightness from dusk till dawn.
Tactical-style turrets with zero-reset. This feature makes field adjustments really simple. It is equipped with precise, ¼-MOA hand-turn, positive-click reticle adjustment that gets you zeroed in quicker and maintains your setting even with repeated recoil. Field adjustments is as simple as dialing-in your subsequent ranges.
Generous and consistent eye relief. This scope keeps your brow safe even with the heaviest recoiling cartridges, severe shooting angles or lightweight rifles.
BDC Carbine reticle. This reticle is developed specifically for the trajectory of the .223 Rem /5.56 NATO round with 55-grain polymer tip bullet. This new BDC Carbine reticle provides a 200 yard crosshair with "hash marks" at 400 yards and 600 yards.
Waterproof/Fogproof. The housing of this scope is purged with Nitrogen to get rid of air and it is O-ring sealed to prevent ingress of water or moisture.
Designed for maximum mounting versatility.
100-yard Parallax Setting: This feature eliminates parallax for a more precise shooting.
Here are the specifications of the P-223 riflescope:
Effective Objective Diameter: 32 mm
Objective Outer Diameter: 39.3mm
Eyepiece Outer Diameter: 41mm
Exit Pupil Diameter: 10.7 mm
Field of View: 35.6 feet @ 100 yards
Reticle Adjustment (1 click): ¼" @ 100 yards
Maximum Internal Adjustment: 150 MOA
Parallax setting: 100 yards
Weight: 12.2 ounces (0.76 pound)
What Do Users Say About The Nikon P-223 3×32 Riflescope?
User evaluations and comments provide great insights so we are giving you what users reckon about this scope and the things they like and don't like about the P-223. What Users Say About The P-223 3×32:
"Great optic for multipurpose AR's. Small, lightweight, rugged and clear scope for any AR style rifle"
"Been using it on my DSA Carbine 16in barrel semi auto FAL battle rifle in 308-7.62 for 3 years and have had no problems with it. Keeps its zero and no optic problems with the recoil. It is a tough scope"
"Mounted this scope with the Nikon P series mounts onto my Cold LE6920, 16.1" barrel and it fits nicely. I'm very surprised at how good you can see with this scope. This scope is easy to mount and easy to sight in. The 8.1" length of this scope is an ideal size for the AR15 platform."
"Once sighted in and zeroed to 100 yards, I was able to use the zero-reset turret to dial into 200 and 250 yards easily and accurately. With this scope I'll be able to hunt with my AR and reload various loads for target and hunting and have the accuracy for close to long range shooting."
"This is a no-nonsense fixed power at a steal, crystal clear for the price! Versatility and value led me to buy this scope."
"I'm new to scopes and AR15's but I am very pleased with this product. It is easy to zero and easy to mount using the P-Series mounts. My wife also had so much fun shooting accurately with this cheap scope. Great price, perfect for me."
"It works great on a Colt AR 20 inch barrel… the image is bright and easy to find your target with this scope… the eye relief is great… this is a high-quality product and the price is right!"
"Very clear and great setup for CQC or 600 yard shots. Compact size!"
"The glass is the normal great Nikon clear glass and a very well-made product! Worth every penny!"
"I am very impressed with this optic… nowhere else can you get so many quality features on such a small package. This scope can actually outperform 3-9 scopes by other manufacturers. The glass is of the highest quality, making for a crisp and bright sight picture. The BDC allows this scope to transition into a long range shooter without any effort on your part, and is accurate at long ranges as well… it is lightweight, compact and construction is very sturdy."
"Mounted easily with P Series Rings on Bushmaster XM-15 Patrolman Carbine. Zeroed in two adjustments (one elevation, one windage), dead-on at 50, 100, 200 and 300. Perfect scope for carbine style AR's. Great scope, great value!"
"Sighted this scope in my Colt MT6400 at 100m using a 50/100 target using 3 rounds for each adjustment, it took me only just nine round (3 adjustments) to place shots inside a ½" dot at 100M. I shot the remaining 11 rounds at a shoofly target and I hit all the bullseye and 2 out of 3 flys on the target. This is very impressive, easy to sight and use. Excellent scope!"
"Its compact and the mounts are solid… it is perfect for plinking, hunting at more than 400 yards and personal defense… great scope for the price!"
"Extremely clear, very durable, lightweight and economical."
"I purchased this scope for my new AR-15, I used Nikon mounts and the setup was a breeze to install. The clarity of this scope is incredible! Everything is sharp and bright… the ¼ MOA per click knobs allows you to really dial the rifle in… On the field, I am consistently on target at 100 yards, 200 and 400 yards. I am very happy with this scope, I doubt if you can get one better for twice the price. It's a great scope – it makes an average shooter good!"
"Bright clear glass… BDC easy to see not small like the Burris AR332. I like the turrets, not too big like other review are stating… the scope looks really nice on my Noveske Light Recce. This is a perfect scope for my AR-15"
"This is the best medium range scope on the market for the price. Right on the money!"
"Great scope, very well-designed, crystal-clear lens."
"Mounted this scope on both my DPMS 22 upper and m M4 match rifles. It's very compact and have crystal clear optics. The upgraded turrets are clearly marked, have positive clicks and easy to reset… the mount system is perfect when dealing with limited space on a rifle."
"…Got it sighted in for 100 yards and is pretty close to center at 200 and 400 yards using the BDC dots… this is a super awesome scope!"
"Great value, perfect size, awesome clarity. The reticle is very easy to use… you won't find a better scope in this price range."
"…The scope has great clarity and a good field of view. Would recommend all around."
"This is an absolutely wonderful scope!… it sits on my gun perfectly and doesn't really add too much bulk at all…"
"This is a great scope for the AR platform… this scope is spot on! Clarity is fantastic and I couldn't be happier with the BDC reticle."
The lists above are just some of the things that happy users are saying about the P-223 and it's not even half of all the great things they are saying. We don't want it to sound monotonous and so we're leaving it at that. What Users Don't Like? Although users generally love the Nikon P-223 scope, here are some things that a tiny portion of users found that they don't like about the P-223 and some things that they wished the scope has?
"The mount does not have a moving wedge and cannot be fixed to a military spec picatinny rail…Nikon should make the mount less fancy and more practical."
"…crystal clear picture but just wish the BDC was a little bit closer for the carbine instead of eyeballing the center of 200 and 400 yards."
"The BDC is 400 and 600 yards, why not 100, 200 and 300 yards?"
"I reckon that capped turrets would be simpler, lighter and more robust…"
Is There Any Other Mount That I Can Use Instead of The Nikon Mounts?
If you are finding the mounts to be a bit out of your taste or you would prefer to use other mounts or just don't really like the P Series Mounts from Nikon for whatever reasons, there are some users that were able to use this scope using the below mounts:
TMS AR15 Flat Top One Piece Ring Mount. The user commented on this to be a much better option and easier to quickly attach and detach from the rail.
Other users have also tried using UTG 1" Picatinny Rings and it worked fine for them
Product Summary & Conclusion
Now, we are in the end of our P-223 3×32 review. We have provided you the details of what the scope is for and we've also laid out what actual users say they like, don't like and desired-for about this scope.
So is the Nikon P-223 3×32 BDC Carbine Rifle Scope a good scope? Well, from user evaluations and comments, the answer is an overwhelmingly YES! But we wouldn't say that – perhaps, not just yet!
We can actually have a conclusion on this based on two things. The first one is based on the features and specifications that this scope offers as it has great design, really good features and amazing optics technology.
The second one is based on the many users that are really happy with this scope's performance in the field and how accurate they're shooting is using the P-223. In Amazon alone, this product has more than 450 customer reviews with a rating of 4.7 out of 5 stars which clearly manifests high user satisfaction.
So based on the great design and awesome optics plus the fact that it's got a high product rating and comes highly recommended by users, we could definitely say that the Nikon P-223 3×32 riflescope is an excellent product. It is an absolute steal for its cheap price!
We do hope that this P-223 3×32 review has given you enough information to help you in your decision to buy this scope and if you're looking for a great place for a Nikon P-223 3×32 scope for sale, we would recommend to buy it from Amazon as they would always have a great price and discounts available that is waiting for you to take advantage of.
Click this link to go to Amazon and buy the Nikon P-223 3×32 riflescope at a very good price and any possible discount!