Zeiss Conquest HD 8×32 Binocular Review
The Zeiss Conquest HD 8×32 binocular is a lightweight and compact model which is ideal for game stalking and bird watching.
It is the number one (1) ranked binocular in the mid-price range according to a comprehensive testing report by Cornell Ornithology Lab. You can check out the review here.
It has a 5-star suitability rating for birdwatching, nature observation, traveling and general outdoor activities and a 4-star rating for hunting and sporting events or concerts.
You can see from the suitability chart below the summary for the other outdoor applications. Note that this model is not that great for marine and totally not suitable for astronomy.
Conquest HD 8×32 Application Suitability Chart
| Application | Rating |
| --- | --- |
| Birdwatching / Nature Observation / Traveling / General Outdoor | |
| Hunting / Events | |
| Marine | |
| Astronomy | |
For the other features and specifications, we will talk about and review each one of them in the following sections.
Product Description and Review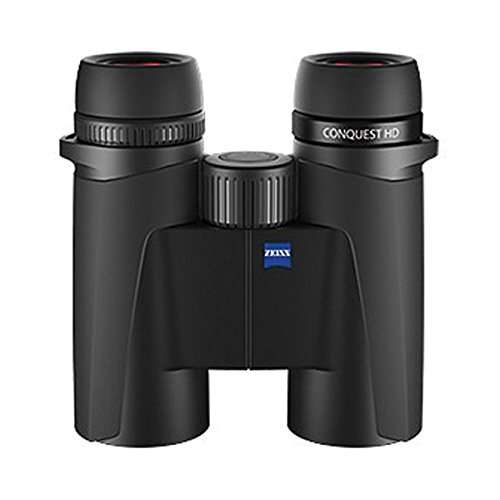 Binocular Design
The Conquest HD 8×32 is designed with birding and nature enthusiasts in mind. Spectacular optics with great ergonomics are design basis for this binocular model.
Durability is also another attribute for the HD 8×32 as with all Conquest HD models so expect a tough and rugged unit with this series.
Allowable Operating Temperature
The design temperature range allowed for the 8×32 HD to properly operate and function is from -20°C up to +63 °C.
This range is pretty wide which would suit most outdoor environment. Take note not to use this outside of these temperature range!Save
Save
Lens System
Built with a Schmidt-Pechan prism combined with Zeiss' proprietary multilayer coating and LotuTec coating systems, the HD 8×32 gives a new definition on the word "clear". As users are all saying, the brightness, sharpness and clarity of this binocular is unbelievable.
The Field of View (FOV) of the HD 8×32 is 140 meters at 1000 meters (Apparent Field of View would be 64 °) which is really wide and one of the many things that birders actually love about this model.
The front lens diameter of this binocular is 32 mm and with a magnification of 8x, the Exit Pupil Diameter would be 4 mm. The 8x magnification provides a good overview and shake-free images.
The twilight factor of this binocular is only 16 which is the lowest of all the Conquest HD models which somehow gives you an indication that it is indeed not applicable for Astronomy.
Similar to the other Conquest HD models, the diopter adjustment scale of the 8×32 is +4 | -4 dpt and it also has an index point as a reference marker. The diopter adjustment mechanism is situated on the right eyepiece. The adjusting knob located in the center in combination of the diopter adjustment makes focusing of the eyepieces as easy as 1-2-3 – such a breeze!
If you like looking at objects in close distance, this model is also great for that as its Close Distance Focus capability is only 1.5 meters. This is great for looking at bugs, butterflies and other insects.
The Inter-pupillary Distance (IPD) of the 8×32 is between 54 – 74 mm which generally suit most persons. If you require a smaller or larger IPD's, then you should consider a different model.
Body
Proven in the field by various simulated typical hunting accidents, the rubber-armored body of the Conquest HD binoculars remarkably withstood these tests proving its toughness and ruggedness. You can read all about the durability tests done in our previous article here.
Not only that it is tough, the rubber armor provides a nice and comfortable feeling on your hands as well.
When it comes to water, this binocular is water-resistant up to 400 mbar (4 meters or 13.3 feet water depth). This is way better than most binoculars which were designed for up to three (3) meters only.
Fogging and corrosion protection for this unit is accomplished by standard Zeiss' nitrogen purging procedures.
Physical Dimension
Users also love the compactness and light weight characteristics of the 8×32. With its actual size of 132 mm x 118 mm (Height x Width) which is just about 5.2 x 4.65 inches and a weight of only 630 grams (or 1.39 pounds), the convenience that this model gives you is pleasingly fantastic!
Other Features
Twist-out eyecups that can be set in four positions (i.e. top, bottom and in two other intermediate positions). For those wearing glasses, adjustments should be on the lowest position which gives a total eye relief of 16 mm.
Strap for fastening protective lens cap
Carrying case including carrying strap
What Is The Warranty For The Conquest 8×32 HD?
Zeiss has a very good product warranty in place. For the first five years, this binocular is covered by Zeiss' No Fault 5 Year Warranty policy. It then transitions into the limited lifetime warranty after that.
User Reviews and Feedback
Based on our research, laid out below are the things that users like and don't like about the Zeiss Conquest HD 8×32 model. Check it out to help you evaluate this particular model.
What Users Like? (Positive Comments)
"These are outstanding binoculars and my wife is crazy about them! It has great clarity, brightness and sharpness…"
"These are great binoculars for looking at wildlife around the home and property. They are clear and lightweight…"
"These binoculars have excellent light gathering characteristic… they are bright and clear and easy to wear! Good choice for birding…"
"… I like the fact that this is very easy to use and can be adjusted using just one hand…"
"These are amazing and easy to use binoculars! Focusing is pretty easy whether near or far…"
"These are alpha-class binoculars, they are very bright and very sharp, totally satisfied for general birding and hiking use…"
"…These got great ergonomics… the eye relief is also good!"
"…The light gathering and field of view of these binoculars are very nice and comparable to other 8×42's and yet they weigh much less…"
"…Excellent close focus capability, great for looking at butterflies, reptiles and other insects at close distance…"
"These are great value for the money, an alpha model at a very affordable price which is a good way to go than a $2000 pair…"
"… I love the wide field of view combined with the great brightness and sharp images!" 
What Users Don't Like? (Negative Remarks)
Some users find that the front lens and ocular covers are poorly designed and difficult to keep fixed in place as they bind in the middle. They have recommended BAC-VT-SW48 for objective covers and BAC-VT-RAINGUARD for ocular covers instead.
Some users say that they find the eye focus slightly more challenging than Leica's 8×32.
This product is made in Germany so if there is something on your binocular that needs to be repaired, it might take a while before you get it back as the unit needs to go to Germany for repairs.
If in case you need to mount this binocular to a tripod, you need to have the tripod adapter called Binofix. Click Here to check it out.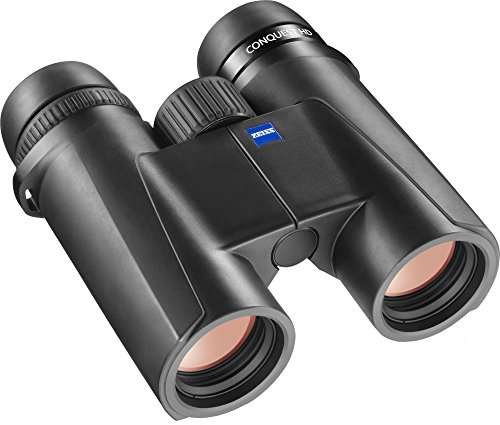 The lightweight and compact Zeiss Conquest HD 8×32 binocular is great for bird watchers and nature lovers as attested by users.
It is also good for hunting and stalking game during the day. The combination of its size and weight makes it a very convenient companion on your various outdoor activities.
The near focus capability of only 1.5 meters also allows you to experience crisp & clear views, colors and images up close.
With great design, amazing optics combined with ergonomic features, it is not surprising that the 8×32 Conquest HD binocular model from Zeiss has a high product rating of 4.7 from actual verified users.
With all the great feedback from users, there is one notable negative remark regarding the lens covers which can be easily remedied by replacing them with suitable parts made by other brand.
In summary, we highly recommend the 8×32 based on outstanding design, high-quality optics and a very high product rating from customers. Do yourself a favor and check it out!
Click here to GO TO the ZEISS CONQUEST HD 8×32 BINOCULAR product page in Amazon.
If ever you do not prefer the Conquest HD 8×32, there are other Conquest HD binocular models in this article that you can look at.