Minox BV 8×25 Binocular Equipment Review
The last one, but not the least of course, in our series of Top 5 Minox Binoculars is the BV 8×25 model.
We have talked about the other four (4) models in previous articles and what a way to end this series by talking about the most compact model of all the five. Let's get this on with shall we!
Product Description and Review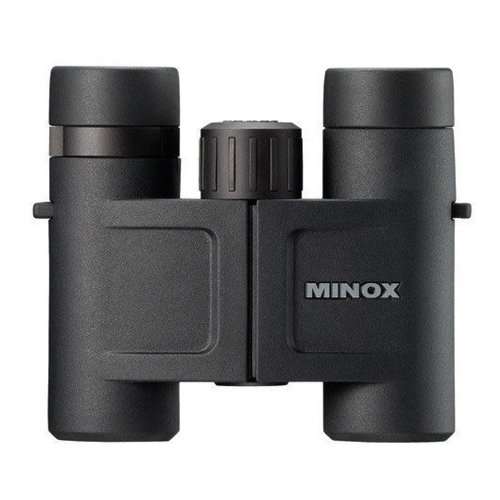 Binocular Design
Designed for general (universal) applications, the Minox BV 8×25 is a compact binocular which makes it ideal for numerous outdoor activities that requires a handy and lightweight baggage.
Minox has put emphasis on a great quality binocular with incredible focus and accuracy that is small and light enough to easily carry as you go and this binocular is the result of that design.
We'll discuss in more details the other features and specs this binocular has to offer in the next sections.
Allowable Operating Temperature 
Temperature plays a critical role in every equipment so it's best to know what temperature range the BV 10×42 can be used to. Similar to the other Minox models we've come across, this binocular is good for 14 °F to 122 °F (or -10 °C up to 50 °C).
Proper care of your binocular starts with you so take note of this operating temperature range so you won't end up damaging your binocular.
Lens System 
The BV 8×25 provides you viewing enjoyment because of its fully-multicoated lenses resulting to bright images with excellent contrast giving you detailed rendition of things you're looking at.
This is because maximum light transmission and minimum interfering reflections are achieved by multi-coating all glass/air surfaces by Minox proprietary coating procedures.
The Field of View (FOV) of the BV 8×25 is pretty wide at 358 feet at 1,000 yards (or 6.8°, or 119 meters at 1,000 meters) giving you more area of the views and scenery.
The front lens diameter of this binocular is 0.98 inch (25 mm). As the magnification is 8x, the Exit Pupil Diameter would be 0.12 inch (3.1 mm).
The Close Distance Focus capability of this binocular is 4.92 feet (or 1.5 meters) so you can use it to have a close-up view of objects a little bit more than a meter away.
This binocular has a central joint mechanism that enables fast individual adjustment of the distance between objective lenses.
Magnification 
The BV 8×25 has a non-variable magnification power of 8x which actually complement the design of this compact binocular giving you clarity and accuracy. The 8x power also do not bounce around too much when your hand shakes.
Body
The body of the BV 8×25 is made of an extremely sturdy aluminum metal. It has a non-slip rubber armoring which gives you that great and comfortable hold at all times.
The body is also waterproof and can withstand a pressure of up to 0.3 bar which is equivalent to a depth of three (3) meters.
The inside of this binocular is protected against corrosion and fogging through the use of Nitrogen, even with severe and sudden temperature fluctuations.
Physical Dimension
With its actual size of only 4.29 x 3.85 x 1.53 inches (109 x 98 x 39 mm) combined with its weight of just 9.14 ounces (or 259 grams), this makes the BV 8×25 the most compact and lightest of all the five (5) Minox binoculars we have talked about.
This is actually the best characteristic that this binocular has and one of its most recognized advantage over the other models.
Other Features
The BV 8×25 also features twisting eyecups providing eyeglass wearers their needed eye relief which goes up to 0.61 inch (or 15.5 mm).
The eyecups also have a 3-position rotation setting which makes it pretty easy to have the same extension between eyepieces unlike the other pull-out types which get misaligned easily.
The package also includes a neoprene strap, eyepiece cap and ever-ready case.
Other Technical Specifications:
Diopter Adjustment: +/- 4 dpt.
Twilight Number: 14.1
Advantages:
The BV 8×25 has the following notable characteristics which we find as advantages over other models:
Ideal for most outdoor use
Quality tested and designed in Germany
Really compact and light yet rugged (can be carried along without discomfort)
Clear views that goes with a pretty wide FOV (great for flying birds)
Has a pretty decent eye relief which makes it suitable for people wearing eyeglasses
Near Close Focus capability
Waterproof to three (3) meters
Disadvantages:
People who would want to adjust the magnification might see this as a disadvantage of the BV 8×25 as it comes with a fix power of 8x.
Some people would have wanted a longer eye relief
Might not be suitable for people with IPD lower than 58mm
Some users find the padded case a bit tight-fitting
User Reviews and Feedback
Feedbacks and comments from users are always a great way to evaluate a product so check out the following reviews we've consolidated for the BV 8×25: 
"I'm very impressed with the styling, fit and feel of this binocular. This is a joy to use in a minor league baseball game."
"Focusing is very smooth but a bit quick. I like the nice neoprene neck strap!"
"The bright optics is really impressive. This is really well worth the price."
"The optics of the BV 8×25 is easily comparable to Zeiss and Leica but at a fraction of the cost."
"The color rendition, contrast and the FOV is nothing short of amazing considering the cheap price. Focus is sharp and quick and the eye relief works excellent for me."
"For me, the price is perfect and the performance is beyond what you would expect from this price range. I seriously doubt other brands could compete against this model!"
"Really amazing performance for the cheap price!"
"This is perfect for kayaking, hiking with my dogs and watching critters. They are really small and very light that I barely notice them around my neck and easy to hold for long periods of time."
"The adjustment of the eye relief is very simple which makes it easy for me to use even with sunglasses."
"I love the fact that I can use this for crystal clear distance viewing and watching birds and critters in my backyard!"
"I love the soft and comfortable strap. It enables me to carry or wear the binoculars while still in the case."
"I love these binoculars and they are worth every penny and more!"
"Really impressive, really great optics! Everyone on my team of marine mammal rescue that have used them only have nothing but praises for them!"
"Very good binoculars for the money!"
"This is well worth it, light and small. A pleasure to use, it has smooth exact adjustments and great for use in the theater. The clarity of image is uniform throughout the viewing field. Probably the best clarity in this smaller size range."
"This is perfect for safari, lightweight and optically super!"
"I didn't expect much from these 25 mms but they are actually amazing for their size! They are bright and sharp and operate flawlessly. I love them!"
"Great little binoculars for an amateur bird watcher like me. They are easy to use, compact, adjustable and comfortable!"
"Color is great and they are very sharp. Fits easily and nicely in a small carry bag."
"Small, compact and very good quality. Great for hiking and biking trip. As they are very compact and light, you won't think twice about putting them in your pack. I highly recommend the 8×25!"
"This is unbelievably bright and sharp. Great for traveling, boating and hiking."
"Very clear and light enough to carry all day! A very good product for the price."
"They seem balanced and pretty sturdy. A well-built and very usable compact binocular."
"This works really great. Super image, fast focus, lightweight… I love this one!"
"These binoculars are incredibly light and compact… I can actually wear them hanging on my neck all day and not even notice! The neck strap is very nice included is very nice. Superb performance and crystal clear!"
"They are very light and very compact for a walk, fits nicely in a bike bag, car glove box, etc. Nice true color and I didn't notice any chromatic aberration. At this price range by far, the best I've seen."
"Very clear all the way to the last 1/16" of viewing. For its size, it has one of the widest FOV. They feel solid and smooth to operate. Really great quality at this price range."
"These are great for viewing birds in your back yard or at nearby trees or feeders. A well-made binocular that is easy to operate."
"The field of view is crystal clear and the quality is apparent… in my opinion, this is a steal for a German-made binocular of this quality!"
"For me, the real winning feature of these binoculars is their sharpness – nothing less than excellent for their size and price! 
With all these feedback from actual users, you can see that the BV 8×25 is indeed an awesome pair of binoculars. Users love the clarity of the optics, the high-quality of the overall product and the unbelievably cheap price.
The BV 8×25 is popular among professionals and recreational users around the world because of its compactness, light weight and high-quality optics.
And it can be used on so many applications as well, whether for traveling, sports, hunting or observing plants and animals.
For its price and quality, proven performance in the field plus high user rating, this is really an absolute steal! We highly recommend this product!
CLICK HERE TO SEE THE BV 8×25 PRODUCT PAGE.
If you have a different preference and a compact binoculars is not what you're after, you can go back our Top 5 Minox binoculars here and have a look at the other popular Minox binoculars in our list.