It is always a welcome relief to have some options when you're buying something. I used to remember, when Samsung was just new and we have to buy our first TV.
We are the first home in our compound to buy a Samsung TV – it was really cheap compare to the more popular brands those days, but the quality of their television is the same, if not better. And after a few years, Samsung has evolved and became one of the most bought electronic brands.
Same thing with binoculars, you are used to hearing some other popular brands and now here is a great and refreshing alternative that features high quality optics at an affordable price – Alpen binoculars!
Who Makes Alpen Binoculars And Where Are They Made?
With the objective of providing superior quality optics at a very affordable price, Alpen was established in 1997 by Tim Gardner, who worked previously with Bausch & Lomb, to cater from entry-level to top-of-the-line optics, offering a line of binoculars, spotting scopes, rifle scopes and other accessories.
Alpen Optics is an American brand which is manufactured and made in the US. It is a family-owned company that is committed in providing high quality optics at a very reasonable price.
How Good Are Alpen Binoculars?
The performance features and quality of Alpen products are comparable to those optics which are selling for several times more. This is the company's commitment to offering quality at an affordable price to their customers.
One testament on how good Alpen is, they are the only optics company in the history of optics to have won Outdoor Life Magazine's "Great Buys" annual gear test six (6) times! They also won Field and Stream's "Best of the Test".
The great thing about Alpen is that they deliver on both quality and affordability and it has been quietly changing the buying habits of the outdoor enthusiast one optics at a time. Alpen products are backed by excellent quality, excellent customer service and excellent prices.
Where To Buy Alpen Binoculars?
If you are asking where you can find Alpen binoculars for sale, there are local dealers available in the US and there are about four (4) international dealers (1 in Australia, 1 in Ukraine and 2 in Netherlands).
There are also online stores that you can buy Alpen binoculars from, Amazon, being one of them would be the best one to go to as you know they always have a cheaper price and a better deal.
What Binocular Models Are Available From Alpen?
Alpen has eleven (11) binocular models starting from the entry level (Promotional) to their top of the line model (Rainier). The various models are listed below:
It is always reassuring to have some sort of a fallback when something unexpected happen with the product that you bought which gives you peace of mind.
This is why Alpen is excellent because they have a warranty program in place called "ALPEN LIFETIME NO BLAME, NO FAULT, NO PROBLEM WARRANTY".
In this warranty, the product originally purchased will be repaired or replaced by Alpen for any problem that you encounter for any reason.
This is Alpen's expression of their full confidence in the design, workmanship, and durability of their products.
As for all warranties, take note that there are some instances and situations not covered by their Lifetime Warranty.
For full details, check out their website here -> Alpen Optics Warranty.
Which Alpen Binoculars Are Good For Hunting?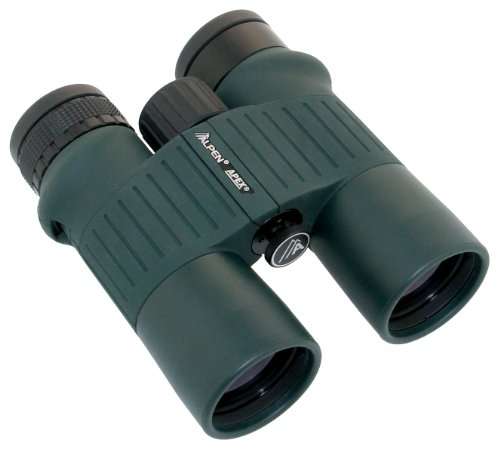 For hunting, it is recommended to have binoculars with the following configurations: 8×42, 10×50, 10×42 and 12×50.
All of these configurations are available with the Alpen's APEX series which are binoculars designed for hunting.
APEX binoculars gives you crisp and sharp optical images from the center to the outer edges even at low light situations (early morning or late afternoons) which is really great for hunting.
Hunting demands durability and ease of use; APEX binoculars satisfy these criteria as they are rugged binoculars designed to withstand tough conditions with its rubber armor and waterproof/fogproof body.
The ergonomic styling of the APEX also present comfort when you hold it. The deluxe travel case and wide comfortable neck strap are awesome accessories.
Of all the configurations we mentioned above, the 8×42 and the 10×42 are the most popular of them all. It would make sense as these models are relatively light (only 22 ounces or 1.38 pounds) so you won't feel weighted down.
They are also pretty compact (only 5.75 inches long) so won't take much space in your luggage. They have a super close focus of five (5) feet and a significantly long eye relief.
Based from what users are saying, the performance of APEX in the field is really amazing. Compare to other binocular brands with the same spec, no one comes close to the APEX as far as price is concerned. There it is – quality at an affordable price! A real bang on!!!
Which Are The Most Popular Alpen Binoculars?
In our research, we were able to come up with a list of the most popular Alpen binoculars in the market.
In our list, we ranked highest the binocular that has got the highest rating from the most number of users. Number of users being a minimum of five (5) people – less than that, we won't include them in the list. Here goes:
| Rank | Model | Configurations Available | Rating | # of Users |
| --- | --- | --- | --- | --- |
| 1 | ALPEN Wings EDHD Compact Waterproof Fogproof Binoculars | 10x25, 8x20 | 4.9 | 17 |
| 2 | ALPEN Shasta Ridge Waterproof Fogproof Binoculars | 8x42, 10x42 CAMO, 8x25, 8.5x50, 10x50, 10x26, 8x26, 10x25, 8x30 | 4.6 | 65 |
| 3 | ALPEN Wings Open Hinge Design Waterproof Fogproof Binoculars | 10x42, 8x42 ED, 8x42, 10x42 ED | 4.6 | 11 |
| 3 | ALPEN Pink Series Binoculars | 8x25, 10x42 | 4.6 | 11 |
| 4 | ALPEN Apex XP , Extreme Performance Waterproof Fogproof Binoculars | 10x42 CAMO, 8x42, 10x50, 12x50, 10x42, 10x32, 8x32 | 4.5 | 23 |
| 5 | ALPEN MagnaView Binoculars | 12x52, 7x50, 10x52, 10x42, 8x42 | 4.5 | 18 |
With the goal of providing users great quality optics at a cheaper price, Alpen Optics was started and continued to stay focused on this commitment. True to this fact, they have produced hundreds of optical products that exudes quality at a very competitive price.
In this article, we talked about the various binocular models in Alpen's repertoire and we've provided you the general features and specifications of each model.
We also outlined the most applicable Alpen binocular for hunting and we've given you a list of the five (5) most popular Alpen models in the market.
Given all this information, we do hope that you've now got a positive outlook about Alpen's binoculars and would consider checking out one of its models next time.