Binoculars come in various sizes and configurations yet one of the most popular among enthusiasts and hobbyists are the 10×42 binoculars.
One of the main reasons probably is because they are great to use for different activities during dusk till dawn, for observing things in mountains and also for hunting. It falls on the "not too big, not too small" category so it caters to many applications.
What Are 10×42 Binoculars And How Good Are They?
Ok, before we go any further, let's start with the basics here first and talk about the general things regarding 10×42's.
As a start, 10×42 means that the magnification (or power) is 10x which simply means that you can magnify the object ten times compare to looking at it with your naked eye. The 42 is the size of the objective lens in millimeters.
The general features of any 10×42 are the following: (no matter what brand it is, these features stay the same!)
Obviously, the magnification and objective lens diameter
Exit Pupil Diameter is 4.2mm (42 divided by 10)
Luminosity Factor (or relative brightness) is 17.64 (this is the square of the Exit Pupil Diameter, 4.2 x 4.2)
Twilight Factor is 20.5 (this is the square root of 420 – where 420 being the magnification times objective lens diameter)
It is important to note though that the above features do not actually "define" a binocular because they do not take into account the quality of the optics such as how light is transmitted through the lenses, image contrast and resolution. So these should not be the factors  to influence your choice.
Now let's go and talk about the aspects that are pretty influential and depending on the brand, the following features change:
Type (either Roof or Porro)
IPD (Interpupillary Distance)
Brand-specific additional features (like waterproof, fogproof, lens covers, etc.)
And these features are where the big differences lie between what makes an ordinary binocular and an amazing one.
Depending on what activities you want to use your binocular for, your preferences will play a big part on which brand to choose.
Some people that like to look at insects and birds more closely would prefer those that have a lesser close focus capability. Others would go for something that has got a wider field of view.
For those who wear glasses, you'll be quite concerned on the eye relief of a binocular and if the eyecups are adjustable or not.
We will probably talk more about this later when we go through our Top 10 10×42 binoculars list. We shall provide you with each item's features so you can compare each one over the other.
Why Is The 10×42 A Popular Size Among Binoculars?
As we mentioned before, the 10×42's are popular probably because of its adaptability to be used on many activities. It is good for hunting, birding or bird watching, stargazing and astronomy.
Also, with the power that comes with the 10x magnification, user can see more of the view when looking through this binocular model. The enjoyment that the views provide you is priceless, that's why people love 10×42's.
Now, some brands are far better than others and more expensive as well but keep in mind that price isn't always a determining factor – it could be one of the many things to consider but you'll be surprise to know that some lower priced brands are actually better than more expensive products.
The Top Ten (10) Most Popular 10×42 Binoculars
Now, in this section we shall give you a list of the top ten most popular and most bought 10×42 binoculars. The criteria that we set out for this list is that the user rating should be high (more than 4.5) and should at least have five (5) people that bought it.
This is actually a very interesting list as the LOWEST RATED PRODUCT WE HAVE IS RATED AT 4.7 which is really on the upper end of a 5-star rating scale! This means that these binoculars are highly regarded by users.
Here it goes; we shall start with the one which got the lowest average user rating first: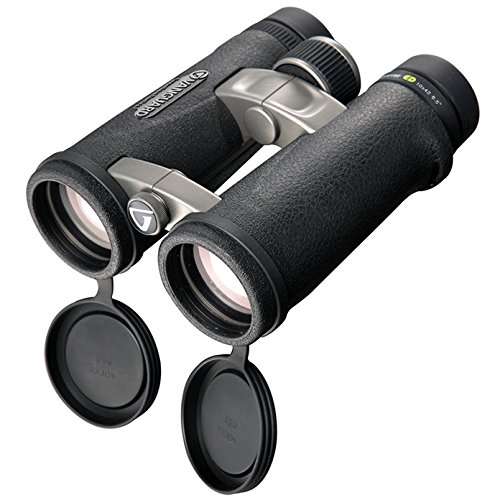 With an overall rating of 4.7 from 209 people, our 10th placer is the Vanguard 10×42 Binocular with ED Glass.
Having this kind of rating from more than 200 users is really impressive. This binocular must have ticked most of the boxes for people to rate it pretty high. Let's go through its features one by one.
Extra low-dispersion glass. This feature makes the image sharper because it reduces color dispersion and it enhances color resolution and contrast.
P2 phase-coated Bak4 prisms and fully multi-coated lenses create clear and crisp images.
3-stage twisted eyecups. Provides a very long eye relief, 16.5mm, a feature which makes this product friendly for those who wear glasses.
This binocular weighs only 730 grams (1.6 pounds) so not a bother to carry along.
Field of view: 340 feet @ 1000 yards
Close focus distance: 8.2 feet
Has a locking diopter ring
Performance is outstanding even in low light
Really easy to hold as it has an ergonomic grip with thumb rest
Has a premium lifetime warranty
With these features and a fantastic performance in the field, it is no wonder why the Vanguard 10×42 is one of the crowd favorites!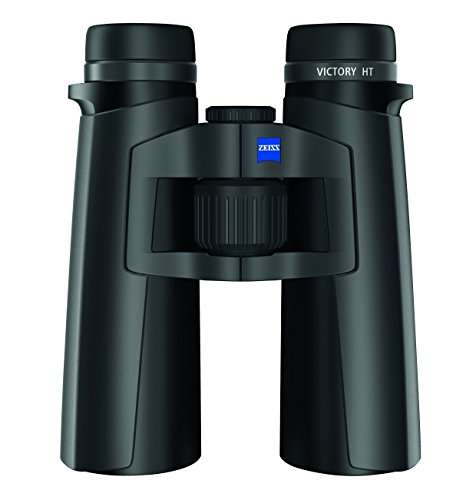 The 9th spot in our list is taken by Carl Zeiss Optical 10×42 Victory HT Binocular with an average user rating of 4.8 coming from 5 people.
Well, when it comes to technology, German products are really top notch.
It is translated into this binocular with the combination of the exclusive Schott high-transmission (HT) glass, FL lens system and enhanced T coatings.
This technology combination makes the Victory HT great for low light conditions, especially when you're hunting, as it gives you great color rendering with better contrast and sharpness. The HT line is the brightest premium binoculars from Zeiss.
Other relevant features:
Close focus distance: 6.2 feet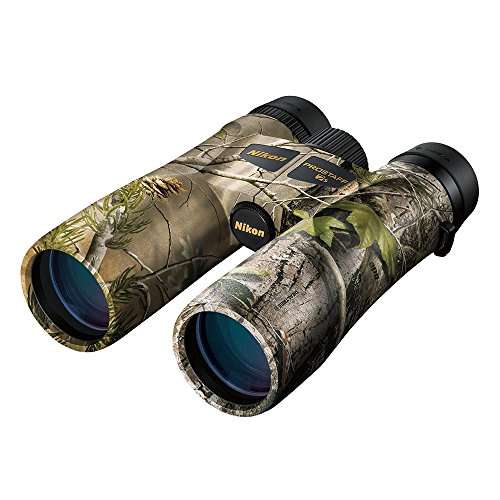 Occupying the 8th position is the Nikon 16004 PROSTAFF 7S 10×42 Inches All-Terrain Binocular with 4.8 average rating from 19 users.
Users are really ecstatic with how this binocular from Nikon performed in the field.
It produces a very clear image and the field of view is great. It has been tried for hunting, scenery and wildlife and the images are really sharp.
Users also love that it is light and yet durable and comfortable to hold even in wet conditions because of its armored body. The twist up eyecups also makes for a long eye relief which is pretty handy for those with glasses.
People find the green camouflage color really cool as well because it makes the binocular blend in the woods.
Other features of this binocular are below:
Easy to adjust focus and eye relief
Very clear image and great FOV

At 7th place is the Bushnell Legend Ultra HD L-Series 10x42mm Binoculars having an average rating of 4.8 stars from 21 users.
The Bushnell L series exhibits maximum brightness, definition and clarity so it is well-loved by outdoor enthusiasts. This binocular is suitable for birding, sightseeing, sports, concert and hunting.
Other features of this binocular are: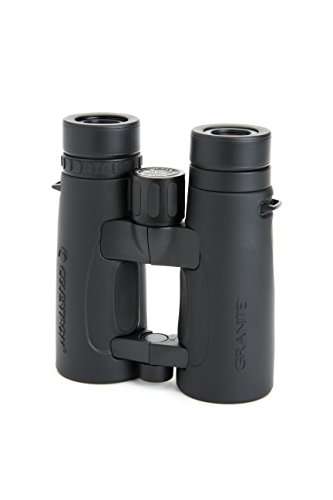 Ranked number 6 is the Celestron 71372 10×42 Granite Binocular (Black) which was bought by 81 persons and rated at 4.8 stars.
The Celestron Granite incorporates a high index ED Glass objective lenses for the truest color rendition. It has fully broadband multi-coated lenses that provide maximum throughput light transmission with the highest levels of contrast.
This binocular incorporates some really nice ergonomic features such as open bridge body with thumb indentations & finger ridges to prevent slipping – so it is really nice and easy to hold.
Other great features of this binocular are: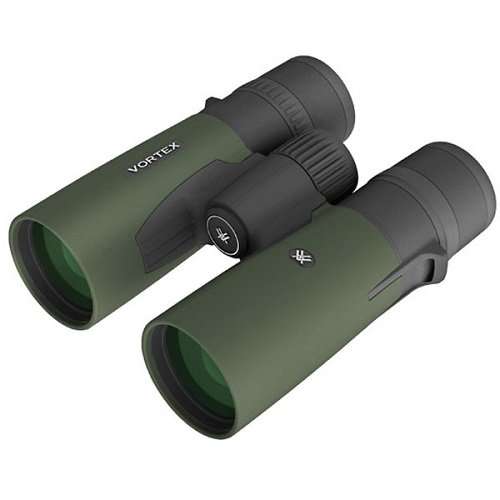 Coming in at 5th place is the Vortex Optics Razor HD 10×42 Roof Prism Binocular. It has an average rating of 4.9 from 12 users.
The Razor HD is equipped with the premium high density (HD) extra-low dispersion glass that delivers awesome resolution and color fidelity so you'll see clear, high definition images.
It has a magnesium chassis which made it really light, yet strong and durable. Users love it for its compactness, great feel on the hands and impressive optics.
Other features include:
Compatible with tripod adapter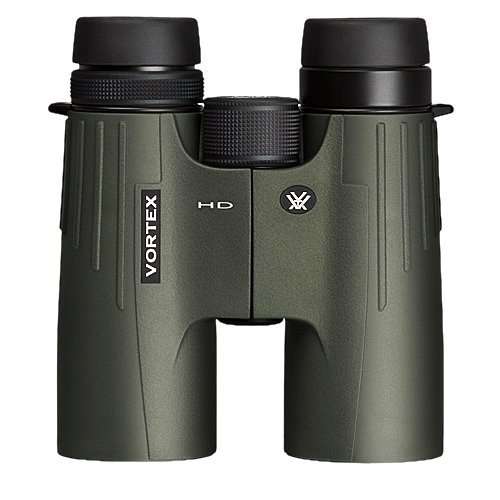 In 4th place of our ranking is the Vortex Optics Viper HD 10×42 Roof Prism Binocular which is rated by 69 users at 4.9 stars.
Users love this binocular because it is really bright and the images are so crisp and high-definition.
Its compactness is also well received and with a weight of only 1.54 pounds (24.6 ounces), this is one of the lightest full-size binoculars to date.
Other features include:
Locking diopter located on the right eyepiece
Compatible with tripod adapter
VIP unconditional warranty. This means that your binocular will be repaired or replaced by Vortex Optics at no cost, no questions asked and no registration required.
There is also another version of this product which comes with a free vortex harness strap.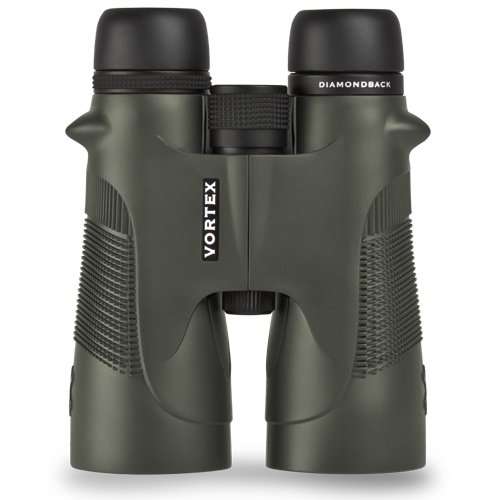 Taking our 3rd place ranking is the DiamondBack 10X42 Binoculars from Vortex Optics with 5 stars out of 5 users.
Users love this compact and light binocular because of its crystal clear viewing. It has an amazing glass and is very durable.
It works well even in low light conditions so really applicable in most outdoor activities.
Other positive comments from users as below:
Images are clear and crisp
No blurring issues unlike other popular binoculars at the same price
Love the coated exterior and non-slip grip area
The lifetime warranty is incredible
No issues with using until dark
Other features included:
Diopter located on right eyepiece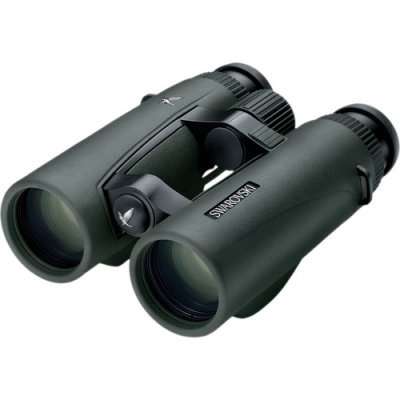 2nd place is occupied by the Swarovski Optik 10×42 EL Range Water Proof Roof Prism Binocular with 6.3 Degree Angle of View & Laser Rangefinder having a 5-star rating from 6 people.
Hunters love this pair of binos because of its awesome optics, great ergonomics, well-balanced design and very comfortable to use.
One feature that hunters also love is the rangefinder which makes it really handy during hunting (no need for a separate rangefinder when using this one). The accuracy and ease of use of the rangefinder is also a wonderful feature.
The clarity is also amazing even at low light which can give you critical details when you're hunting. There is also a built-in program that makes it easy to get a perfect focus to help avoid eye strain.
Other included features are:
Near focus distance: 16.4 feet
Measuring range: 33 – 1500 yards (or 30 to 1375 meters)
Measuring accuracy: ± 1 yard (or 1 meter)
Measuring time: ≤ 1 second
Measuring units: Yard or Meter
On top of the pack at 1st place is the Nikon Monarch 5 10×42 ED ATB Waterproof/Fogproof Binoculars with Case Easy Carry Harness Cleaning Cloth Kit. This is a highly rated pack (average user rating of 5 stars) from the 14 people who bought it.
The Monarch 5 has eco-glass lenses that are bright and provide high-resolution views.
It is pretty sleek and has a lightweight body. With a weight of only 1.32 pounds, this binocular is the lightest of all the binoculars in our Top 10 list.
The Monarch 5 is such a positive for users that it is very highly rated for its quality, durability, overall usability and satisfaction.
Features include:
FOV: 96 m/1000m (315 feet)
Close focus distance: 2.5 m (8.2 feet)
You can also buy this without the pack however, the pack makes sense as the accessories included are really useful and if you buy them as separate items, you'll end up paying more.

To summarize the top 10 10×42's, check out the table below. We provided it to let you compare each model in a glance. You can sort the table by clicking the up or down arrows on each column.
| Rank | Model | Rating | # of User Reviews | FOV, ft. | Close Focus, ft. | Weight, lbs. | Eye Relief, mm |
| --- | --- | --- | --- | --- | --- | --- | --- |
| 1 | Nikon Monarch 5 10x42 ED ATB Waterproof/Fogproof Binoculars with Case + Easy Carry Harness + Cleaning Cloth Kit | 5 | 14 | 315 | 8.2 | 1.32 | 18.4 |
| 2 | Swarovski Optik 10x42 EL Range Water Proof Roof Prism Binocular with 6.3 Degree Angle of View & Laser Rangefinder | 5 | 6 | 330 | 16.4 | 1.94 | 17.3 |
| 3 | DiamondBack 10X42 Binoculars | 5 | 5 | 345 | 5 | 1.53 | 16 |
| 4 | Vortex Optics Viper HD 10x42 Roof Prism Binocular | 4.9 | 69 | 319 | 5.1 | 1.54 | 16.5 |
| 5 | Vortex Optics Razor HD 10x42 Roof Prism Binocular | 4.9 | 12 | 362 | 6 | 1.55 | 16.5 |
| 6 | Celestron 71372 10x42 Granite Binocular (Black) | 4.8 | 80 | 340 | 8.2 | 1.5 | 15 |
| 7 | Bushnell Legend Ultra HD L-Series 10x 42mm Binoculars, Black | 4.8 | 21 | 340 | 8 | 1.47 | 18 |
| 8 | Nikon 16004 PROSTAFF 7S 10x42 Inches All-Terrain Binocular (Green) | 4.8 | 19 | 324 | 13.1 | 1.43 | 15.5 |
| 9 | Carl Zeiss Optical 10x42 Victory HT Binocular | 4.8 | 5 | 330 | 6.2 | 1.9 | 16 |
| 10 | Vanguard 10x42 Binocular with ED Glass (Black) | 4.7 | 209 | 340 | 8.2 | 1.6 | 16.5 |
Other Highly Rated 10×42 Binoculars
Now here are our "honorable mentions". These are the 10×42 binoculars that missed our criteria as they have less than five people who purchased them but they are all highly rated (mostly 5 stars) so it is worth to have a look at these products as well, who knows you might also find them really interesting.
Leica 10×42 Ultravid HD, Water Proof Roof Prism Binocular with Black Rubber Armor, with 6.4 Degree Angle of View, 5 stars from 4 users
Eagle Optics NEW Ranger ED 10×42 Binocular (RGB-203), 5 stars from 3 users
Nikon Monarch 7 10×42 ED ATB Waterproof/Fogproof Binoculars Cleaning & Accessory Kit, 5 stars from 2 users
Athlon 113003 Midas 10 x 42 ED Binoculars, Green, 5 stars from 1 user
Pentax SD 10×42 WP Binoculars (Green), 5 stars from 1 user
Vanguard Endeavor ED II 10×42 Binocular with Roof Prism Binocular Adaptor, Binocular Harness, and Cleaning Kit, 5 stars from 1 user
Leupold BX-T 10x42mm Mil-L Reticle Tactical Binocular, Black, 5 stars from 1 user
10×42's are one of the very popular configurations for binocular users. The main factors is its adaptability to be used in most outdoor activities plus the power provided by the 10x magnification gives you more view to look at.
We have provided you a list of the ten most popular 10×42 binoculars to give you an idea of what binocular model to choose if you're still looking for a pair. We even tabulated the various features of each binocular so you can compare each one's capabilities.
The list that we provided contain models that are all highly rated by users so any binocular model in the list will give you a wonderful experience in the field and will leave you speechless!